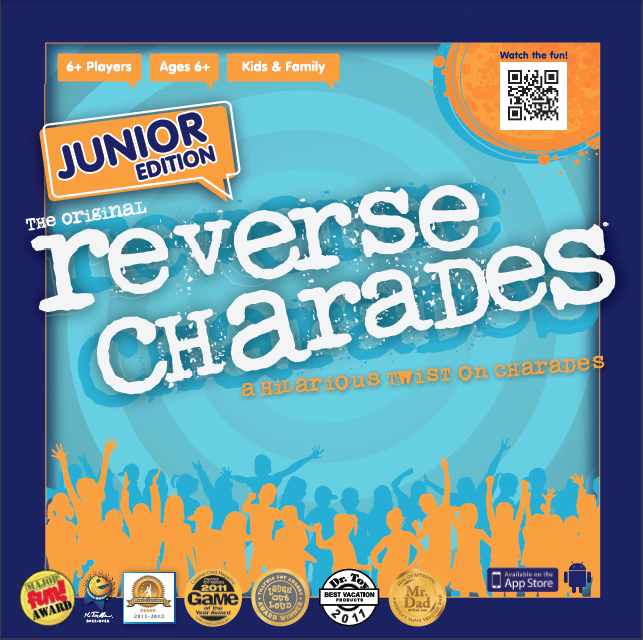 About Reverse Charades:
Reverse Charades is side-splitting, unforgettable group fun—the perfect party and family game!
For more info on their NEW Girls' Night In, Sports and Holiday expansion editions as well as their Junior and French editions, Apps for Apple and Droid products visit their website.
Featured on NBC's Today Show and Radio Disney, this hilarious twist on charades where teams act out words for one person to guess has won a slew of awards: Oppenheim Toy Portfolio Platinum Seal 2011 award — Creative Child Magazine Game of the Year Award 2011 — Major Fun Keeper Award 2011 — NAPPA Gold Seal 2011 — Tillywig Laugh Out Loud 2011 — Dr. Toy Best Vacation Children's Product 2011 — Parent's Choice Award Spring 2011 — Mom's Best Award 2011 — The National Parenting Center Seal of Approval 2011 — The Toy Man 2011-2012: Award of Excellence and e-Choice Award — KSL Studio 5 TV — Best New Family Game 2010.
Now available in over 2,200 select stores in the U.S., Canada and abroad (including Barnes & Noble, Hallmark, Learning Express and Books-a-Million) and on Amazon.com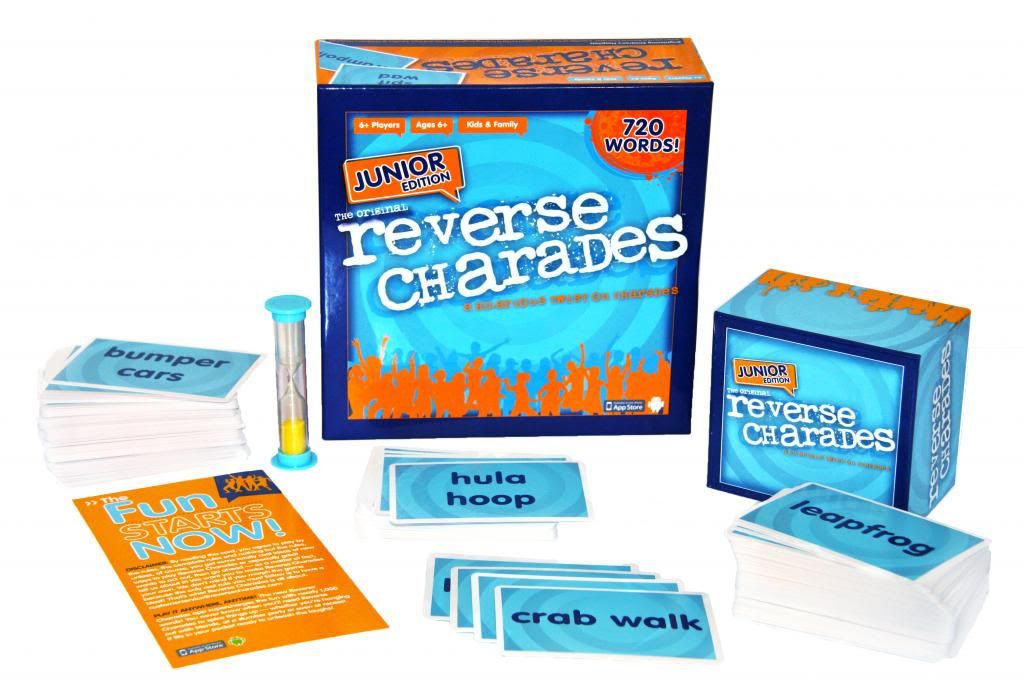 My Review:
I received Reverse Charades Junior for my review. I chose the Junior version for ages 6+ because I wanted our kids to be able to play. Our oldest is 6, and our daughter just turned 5, but I figured with help they could both play. I'm happy to say I was right!
We love playing games, and Reverse Charades sounded like so much fun I couldn't wait to find it. Reverse Charades is similar to traditional charades in regards to the concept that you act out a word without speaking. The "reverse" part comes in where you choose someone from your team to be the "guesser" and everyone else acts out the words. What a blast! This also helps in regards to letting the kids play because if there is a word that is too hard for them to read one of the other people on the team that is acting it out with them can whisper it to them. Reverse Charades is also great because you can kind of work around it to make rules that fit you. We have actually played it a couple of times at home with just our family. Even our toddler jumped in on the fun! The "winner" was whoever got the most guesses right at the end of the game. So, although it's more fun to play in teams with others it was still fun to play with just our family as well! It's too easy to get caught up in media, so it was nice to find a way to play this game with just our family so we could take a break and have some fun! It's fun watching one person acting out a word, but watching 3 or 4 is hilarious! You should definitely watch some of their videos on YouTube as well! This would be a GREAT game to play at a New Year's party – or ANY time!
Overall, I really enjoy this twist on traditional charades, and I think the Junior version is great if you have kids. It has the flexibility to play it how it works best for you. They even have a smart phone app! I think it's a game almost everyone can enjoy!
For More Information:
Visit their website
"Like" them on Facebook
Follow them on Twitter
Follow them on Pinterest
and watch the fun on YouTube!
*Giveaway (ended 1/11)*
Thank-you to our amazing co-hosts: Giveaway Gator , Couponing with Integrity, Mommy Lesson Plans, and Meg's Daily Bytes, Reviews and other Online Distractions and all of the awesome participating bloggers!
About the Giveaway: This giveaway begins on 12/28 at 12:01am and ends on 1/11 at 11:59pm (times are EST) and is open to US Residents ages 18+. Please refer to the full terms and conditions in the Giveaway Tools.
The Prize: A Reverse Charades Game or expansion edition
Loading Entry-Form…
Disclosure: I received a free product in exchange for my honest review. I received no additional compensation for this publication. My opinions are my own and may be different than yours. Pea of Sweetness is not responsible for shipment of the prize.