We had the chance to review Exploring Creation with Chemistry and Physics from Apologia Educational Ministries. We received one Exploring Creation with Chemistry and Physics Junior Notebooking Journal for each of our older two children (ages 5 and 7) who are both doing First Grade work at this time.
Because we have previous experience with another subject in their homeschool science curriculum from our review earlier in the year, I already knew there were many things we enjoyed about it. We always lean more toward faith-based curriculum, and my goal is to not only have "Bible time" as a subject we cover during the day, but rather something that is intertwined into ALL of our day. So I always appreciate curriculum that is faith-based and includes scripture and is centered around God.
I was particularly excited about Exploring Creation with Chemistry and Physics because I have always enjoyed Chemistry and Physics. Knowing how our kids are tactile learnings and are very hands on, I knew they would, too! However, I wasn't sure I'd be able to find a faith-based curriculum on this subject, and this one really delivered!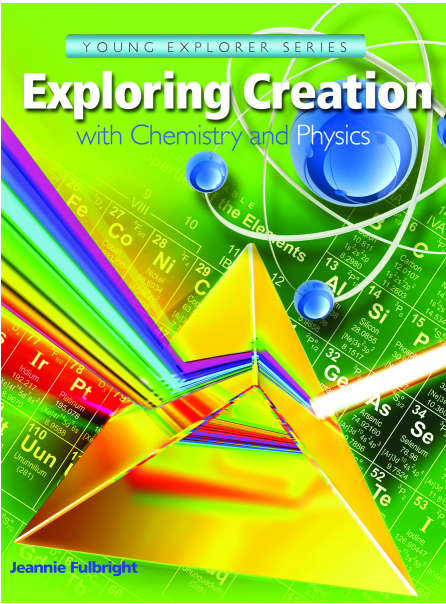 The Exploring Creation with Chemistry and Physics is a Charlotte Mason style curriculum for grades K-6th. The textbook starts at the very beginning – God created the world. It branched out then to explain how everything was created by God – including everything we would be learning in Chemistry and Physics! It starts with the very basics of Matter and progresses from there. As I mentioned, I appreciated the scripture and Biblical references, and even I saw things in a new way I never thought of before!
I was in awe of all the information in the Exploring Creation with Chemistry and Physics textbook and a little intimidated by all the experiments! After looking everything over to familiarize myself with the experiments ahead of time so I could make sure we had the materials, it really wasn't that intimidating anymore. Many of the items used can be found around your home! The introduction in the textbook breaks down what to expect from this curriculum, how to get the most out of it, helpful resources, and how to use the book in a step-by-step guide. It does also provide a supply list at the end of the book, so if you really like to plan ahead, you have the whole list in front of you! I, personally, found planning two weeks at a time worked well for us, but that will definitely vary. One point that is often reiterated is to do what works best for your family – even if that means it's a little different than what is recommended.
Exploring Creation with Chemistry and Physics has a lot of hands on experiments, which I found to be great for our younger kids with shorter attention spans. Although there is still a fair amount of narration on my part, reiterating it with a hands-on experiment really helped to make the lesson "stick." In fact, they found the lessons to be quite fun! Our preschooler even insisted on joining in on some of our experiments with their particular favorite (so far) being loading treasure onto our pirate ship! There have been many other experiments that I, personally, thought were more exciting, but they really loved trying to guess how much treasure the ship would carry and challenging each other!
The Exploring Creation with Chemistry and Physics text book can be purchased for $39.00.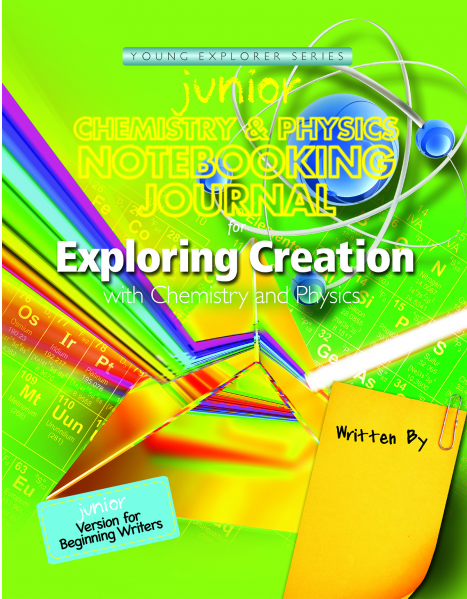 The Exploring Creation with Chemistry and Physics Junior Notebooking Journal provides a recommended schedule at the beginning, which I tore out to have it on hand. It divides each Lesson into 4 days and recommends doing a lesson two days per week. Of course, it does mention that this is just the recommended schedule, and you can definitely tailor it to work on it more or less often as well if needed. We actually broke each lesson in half, and I would just find a spot in the lesson that had a "natural break" and mark that on the lesson sheet. We would then do four lessons per week, but we were still doing the same amount of work that is recommended in two lessons. Although we do love the hands on experiments I did find with our children's special needs, it was a bit too much information and experiences to process at one time, so it is better for us to break it down a little more.
The Junior Notebooking Journal is an optional component, and you can make your own notebook, but I find it just fits so well with the lessons that it is something I would personally choose regardless. It also provides a few extra activities as well to compliment the lessons. The Junior Notebooking Journal not only adds to the educational experience of the lessons, but it also is a great way to help them remember what they have learned by documenting their favorite or most memorable parts of the lessons. They each have me write down something different and draw different pictures, which is so unique. Because they are still young and not yet reading, I would have them tell me what they wanted to say, and I would write it for them. There was also an exercise in the first lesson that asked for writing a story, but I had them draw a picture of it instead. I love how you can make it uniquely yours while still getting everything out of the lesson!
The kids have really enjoyed the lessons and working in the Junior Notebooking Journal. There have been no complaints! All of the extra activities in the Junior Notebooking Journal like the crossword puzzles, Miniature Flap Books, Match-Ups, and more have been well received.
A Regular Exploring Creation with Chemistry and Physics Notebooking Journal is also available for older children and those that have mastered writing. Both Notebooking Journals can be purchased for $24.00.
Overall, I am very grateful to have a Chemistry and Physics curriculum that is full of great information, hands-on projects, and centered on God.
For more reviews on Exploring Creation with Chemistry and Physics including some families that used the regular Notebooking Journal (or even both!) check out all the reviews from the Schoolhouse Review Crew by clicking on the button below!