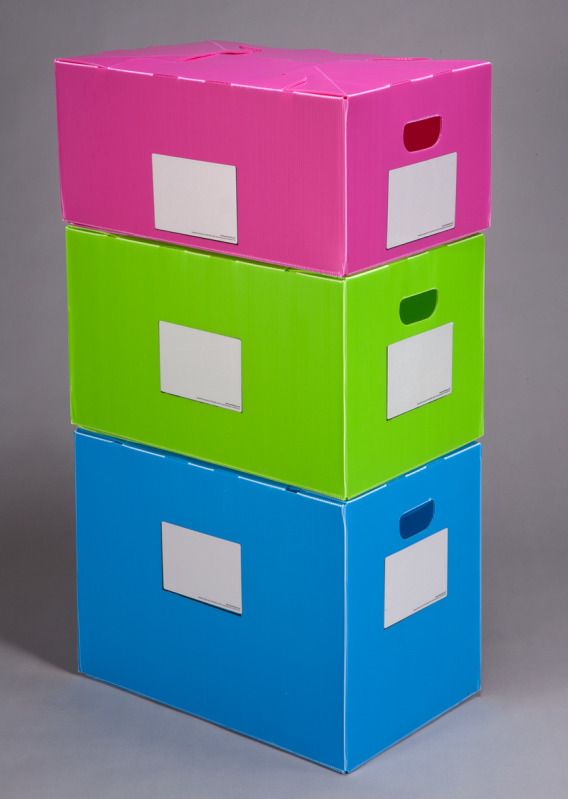 Packaways is a brand new Storage Box that ships and stores in the flat position. When needed, simply press on opposing corners and the bottom "Automatically" folds into place and locks. When not in use, simply press on the bottom and the box folds back down flat for easy, out of the way storage. Ideal for homes, apartments or living quarters where use is intermitent and space is tight. Many applications: Moving; Back To School; Organizing The Kids' Rooms; Basement or Garage; Seasonal Items, etc. You can color code your things or have the colors match your decor. Proudly made in the U.S.A. from durable corrugated plastic. Great for harsh storage conditions or long-term storage since moisture and humidity won't effect the integrety of the boxes. Will last hundreds of cycles under normal circumstances. Many, many useful applications. Comes with 2 Wipe Away Panels that allow you to conveniently identify the contents of the box. If you use Dry Erase Markers, you can simply Wipe Away the previous contents and remark the box.

For my review I was sent two different sizes of Packaways (they come in 3 sizes), and immediately I was IN LOVE with the bright colors! Pink and Green happen to be two of my favorite color combinations, so my husband made a comment about that! When they arrived at my door they were in a thin, flat box. I knew they weren't kidding about folding up flat! Talk about an awesome space saver! And the best part of that is you can use them and put them away if they're not in use – better than using cardboard boxes and having to break them down and find them a new home or recycle them! Being a military family we have moved a lot, and I got pretty sick of being surrounded by cardboard boxes!! What a REFRESHING change Packaways would be!! Or you could use them as a more permanent box like a toy box, storage box, etc. The possibilities are endless!

Here they are folded flat:

Another point I really enjoy is that you can easily change the labels on the boxes by using a dry erase marker, so again if you will be using them for a variety of things you're not stuck with just one label on them! Plus they're made in the USA, which you know I LOVE! Made in the USA and reusable are 2 of my favorite products points! 🙂 Packaways are really easy to set up and take back down as well!

Here they are set up (did I mention I LOVE the colors!?):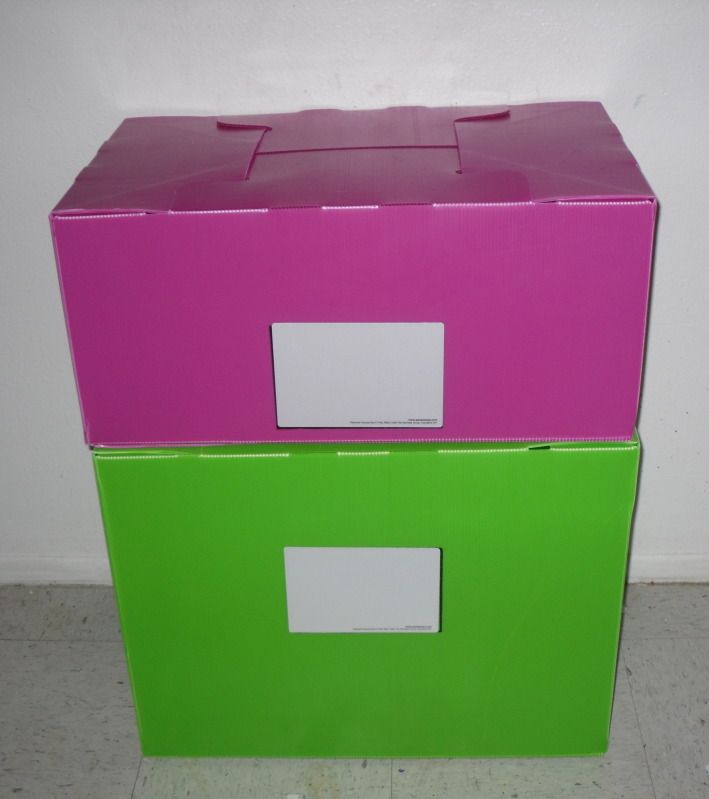 Here is a great video from their WEBSITE to show just how easy they are!
To stay connected be sure to connect with Packaways on Facebook as well!
*Disclosure: I received one or more of the products mentioned above for free using Tomoson.com. Regardless, I only recommend products or services I use personally and believe will be good for my readers.*