Disclosure: This post contains affiliate links.
When I was young I remember having a red plastic board with the times tables on it. You would push the button down and see the answer. I would use it over and over and over again trying to memorize my times tables. It was so cumbersome and frustrating! When I thought about teaching kids times tables I knew there must be a better way, and I needed to discover it quickly because we were getting started with multiplication!
Times Tales from The Trigger Memory Co. offers a fun, unique way for teaching kids times tables through stories that are not only fun but make it easy to remember.



For our review we received the Times Tales Digital Download. It includes two video files and three PDF files (which includes practice tests, tests, crossword puzzles, flashcards and cube games). I definitely recommend having a fast internet connection if you choose the digital download as the video files do take quite some time to download. I simply started downloading them and went about the rest of my day as they downloaded. The PDF files downloaded rather quickly for me.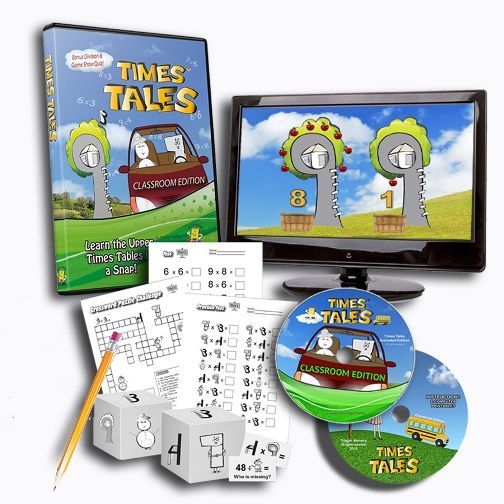 With Times Tales, our oldest son and daughter (ages 9 and 8 – both at generally a 3rd grade level) have been learning their upper times tables. Actually, I should say "have learned," because that is how quick and effective it is! The times tables covered includes: 3×6, 3×7, 3×8, 3×9, 4×6, 4×7, 4×8, 4×9, 6×6, 6×7, 6×8, 6×9, 7×7, 7×8, 7×9, 8×8, 8×9 and 9×9. Because they were just now starting to learn multiplication I really wasn't sure what to expect, but I had heard great things so I was hoping for the best, and it really did deliver!
The stories in the videos are presented in a way that is really fun and engaging for the kids. Our kids often have challenges when sitting still, but when they watched the Times Tales videos, they were fully immersed in the experience! Along with the stories, there are pauses for quiz-like questions to be answered before continuing. We'd simply pause it and wait for both kids to answer and then we'd verify. The kids really had a lot of fun with it! Even our 5 year old sat in on the videos. They do say you can use this for children as young as 5, and although he did enjoy the stories, he wasn't quite as attentive as his older siblings!


After watching the first video we took the rest of the week to do the games, practice the flash cards and do both the practice test and test. I will never forget the look on my husband's face when he saw the test I put in front of them. He looked confused and asked if I was sure they knew how to do those problems. Although our son got a few of the problems mixed up the first time, he got them after that, and our daughter got 100% the first time. I was surely impressed!


We started Part 2 the following week in the same manner and they picked it up just as quickly! We still continue using the flash cards, and I recommend laminating them to prolong their use. We drew out the Part 2 activities throughout the week as well.
Teaching Kids Times Tables
I never imagined teaching kids times tables could be so easy. Although we used the program and continued to practice over 2 weeks, I would really say they learned them and knew them well in less than 2 hours! It's such a fun, engaging way for them to learn their times tables. I learned the stories with them so I could help when needed, but really I felt like they barely needed my help at all! I am so glad we had the opportunity to try Times Tales before we dove further into multiplication!
Get Connected with the The Trigger Memory Co.
Times Tales | Facebook
Be sure to check out the reviews of other Schoolhouse Review Crew members to see what they thought of Times Tales! Click on the banner below!