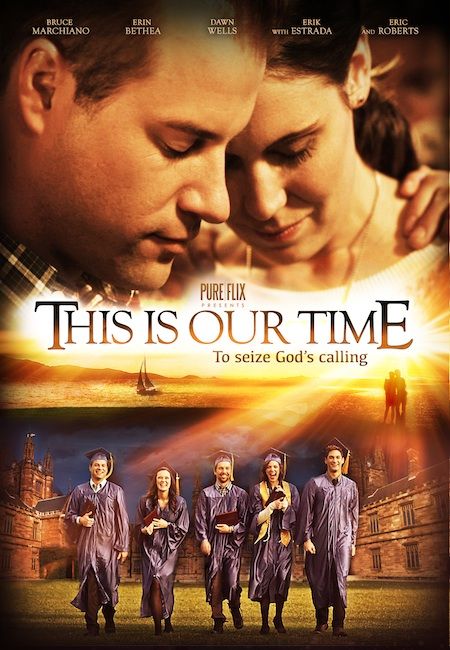 This is Our Time is about a group of friends straight out of college with all their dreams ahead of them. And for most of them, it seems like they are well on their way to achieving those dreams. It seems like Ethan gets left behind as his friends and sister pursue their life dreams and he doesn't get accepted to Grad School. He has a hard time understanding why he is in this place and doesn't understand why it's seemingly easy for everybody else. He feels "side-lined" by God – like he is watching everyone else serve their purpose while he is lost.
As things go for many of us, what seemed to be going well for everyone else ends up taking wrong turns, and then their whole world gets shaken up. They all try to question this new path they are on. How could this happen? Why did it all get taken away? What IS my purpose?
I enjoyed this movie so much because I think it is something we all can relate to – whether we're the "odd man out," the one who seemed to be on the right track and it all went wrong, or having lost something or someone close to us. There are many "whys" to life whether you're just out of college or well into your adult life. I love how This is Our Time talked about how each part of our life is just a "task" or a "mission" – not our "time" or purpose. What it's really about is who we ARE or who we are becoming to be. God uses these tasks and purposed to refine us. And there are going to be things in life we may never understand. They seem unfair, and it hurts, but we have to just keep trusting God in our walk with Him.
This is Our Time made me laugh, cry (and I don't usually cry!), and think deeply. It is definitely a movie I would recommend. I do think this sums it up well:
"What they all come to learn is that it never really was their time," Arnold said. "It always was, always is, God's time."
This is our time will be released on DVD and Blu-Ray on Tuesday, April 16th. It will be available nationwide at Family Christian Stores  and most Christian online and brick-and-mortar retail stores nationwide.
For More Information:
Visit the Pure Flix Website
Connect with Pure Flix on Facebook
Follow Pure Flix on Twitter
Follow Pure Flix on YouTube
*Giveaway!!!*
About the Giveaway: This giveaway begins on 4/15 and ends on 4/29 at 11:00pm (times are CST) and is open Worldwide ages 18+. Please refer to the full terms and conditions in the Giveaway Tools.
The Prize: One lucky winner will receive the This is Our Time DVD!
Disclosure: I received one or more of the products or services mentioned above for free in hope that I would mention it on my blog. Regardless, I only recommend products or services I use personally and believe will be good for my readers. I am disclosing this in accordance with the Federal Trade Commission's 16 CFR, Part 255: "Guides Concerning the Use of Endorsements and Testimonials in Advertising. My opinions are my own and those of my family and may be different than yours. Pea of Sweetness is not responsible for prize fulfillment.