TouchMath is a multisensory program for grades Pre-K through 2nd grade. It is a full hands-on curriculum with a lot of additional manipulatives you can purchase the correspond nicely with the program. TouchMath, to me, in itself is not a new concept as I used the same learning mechanism when I was young as well. With touch math you take the numeral and associate "touch points" with it to actually help count that number. For example, instead of just looking at the number "3" you actually have 3 "touch points" on the number to make the idea more concrete. So instead of just seeing the number you physically count the number.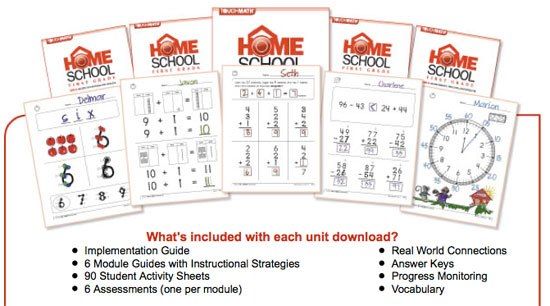 We reviewed TouchMath First Grade. Both our daughter and son are doing Math at the 1st Grade level. Although our daughter (age 5) has been doing really well with Math, our son (age 6) has really been struggling. We tried to present this concept before being blessed with the chance to review TouchMath, but he was still having a hard time grasping it. He is a VERY tactile learner, which is something I am not, so you might say I had a hard time presenting it in a way he could understand best. So, when we first received the TouchMath curriculum his eyes totally lit up. Just looking at it he already knew it was going to help him over his Math hurdles. When we received additional manipulatives it just cemented that excitement even more because as I said, tactile learning is definitely the way he learns best!
TouchMath 1st Grade has 4 different Units, and each Unit is broken down into Chapters. It starts with the basics of counting and works through to Measurement, Time, and Geometry. We used TouchMath as recommended: 4-5 days a week for about twice the amount of time of their age. Usually it was 4 days because we have a homeschool Co-Op for 3 hours once a week, and we're generally all tired by the time we get home! So since Brayden is 6, we would work for at least 12 minutes. We often worked longer because the kids really enjoy TouchMath and would just want to keep going! Each Chapter has worksheets followed by a "Post Test." Although there is no set curriculum (meaning do these worksheets on "x" day, this on the next day, etc.) TouchMath has a wonderful guide to go along with the curriculum. It not only mentions how you can use everyday experiences to solidify the lessons as well as recommended manipulatives that you can optionally purchase. The guide also set very specific stopping points where it would indicate if your child hasn't fully understood the concepts learned thus far you should continue with more practice before moving on. It even gives you a guide to tell you how to gauge whether or not they are ready to move on. I thought this was a very important key because many times you are just go through and you aren't sure if you should just continue or if they need more practice – or where that point might be. I love that it takes the guess work out of it! The worksheets have very large pictures and numbers and were very easy for the kids to read and complete. They would often do 5 or 6 in one sitting and actually enjoyed it! Again, the guide would give ideas of what to say with each worksheet and would indicate if it was to be a guided worksheet or a practice worksheet meaning if I was to guide them through the worksheet or if they were to practice on their own. After I guided them through the first one both of them would often finish the guided worksheets that were similar before I could even say anything!
You can purchase TouchMath 1st Grade for $59.95 or you can purchase all 4 units for $199.95. In addition to First Grade this would also include: Pre-K, Kindergarten, and Second Grade.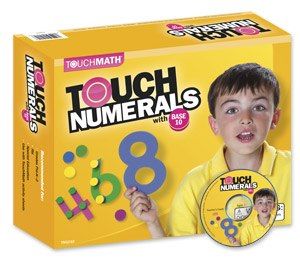 In addition to the main curriculum we also received some wonderful manipulatives to go along with the program. Manipulatives are optional, but the guide does tell you how and when to include the manipulatives with the curriculum. For us, personally, the manipulatives were a huge benefit. With both of our children having special needs and unique learning styles the maniuplatives really help to solidify the learning. Particularly for our son, who was struggling more with the Math concepts. The maniuplatives we received were:
TouchNumerals. The TouchNumerals are foam numbers with addition, minus, and equals signs. They also include many dots for general counting and for touch points. Our kids absolutely LOVED working with the TouchNumerals, and they would ask every day if we could use them. It was really helpful for them to really be able to touch and visualize what they were working on. Again, this was particularly helpful for our son who is a tactile learner. Seeing it on paper and actually putting it together in front of him really opened him up to the TouchMath concept, and it really made a big difference in his worksheets then as well! TouchNumerals can be purchased for $99.00.
FlipCards. FlipCards are another great interactive approach to teaching TouchMath and are available for each Unit (many had more than one recommended set of FlipCards per unit). The teacher guide would inform you when the best time to use the FlipCards were to help facilitate learning. Again, this was something that was very helpful for our kids, and they really enjoyed them. In fact, I caught them a couple of time using the FlipCards with each other when it wasn't even school time! The name explains how it works – there is a concept on one side like counting dots, number comparison, Math problems, etc., and you would flip them over to see the answer. I love how excited they would get in anticipation of seeing the answer! Not only were they learning, but we could turn it into fun games, and they really enjoyed it! The FlipCards can be purchased for $19.00 per set.
Student Number Cards. The Student Number Cards are yet another great visual tool to help solidify learning by having visual access to the touch points. You simply laminate them and cut them out and you are ready to go! They can be taken anywhere easily as well, so if you do schooling outside of the home sometimes (as we do), these are a great portable tool to take along. Student Number Cards can be purchased for $24.00.
TouchMath Tutor First Grade Software. The software is so much fun the kids ask to play it every day. It not only helps teach them TouchMath but they also get to learn a little bit of Geography along the way, too! They got to start in Washington D.C., which was fun for them because we used to live there! Once you complete the studies for that location other locations with different studies open up. There was a concern with this software not working on the latest version of Mac (Mountain Lion), but with a simple update of Adobe Air it worked perfectly. You can also view the software in action if you scroll down. There are many videos at the bottom of the page you can view! It's a great concept of having fun while learning! The TouchMath Tutor First Grade Software can be purchased for $99.00 (Single License)
Overall, I am very impressed with the TouchMath program, and I love how they took the Touch Points concepts to the next level and made not only a solid curriculum but a lot of additional materials to complement the program. It's not only been extremely enjoyable for our kids, but our son, in particular, is now really grasping concepts with which he was struggling. I love that they can work together with some of the manipulatives, which again makes learning fun for both of them and helps instill a bond between them in their learning!
For more wonderful reviews from the Review Crew (including reviews of the different grade levels) please click on the banner below!