Learning to read hasn't come easy here in our house. With our kids' special needs and developmental delays, there have been some challenges in this process. My husband also has reading challenges and struggled quite a bit with reading growing up. That's why I was so interested in checking out the Ultimate Phonics Reading Program from Spencer Learning.



Ultimate Phonics Reading Program is designed for both beginning readers as well as struggling readers of all ages. It is designed to improve not only reading but also comprehension and spelling as well. It teaches the foundation of reading and provides a lot of practice. Ultimate Phonics Reading Program has 262 lessons that cover 4,400 different words and 2,100 sentences total. It starts from a basic level to an advanced level. It is a 100% educational program in a form that isn't flashy or distracting and is easy to use.
We have been using Ultimate Phonics Reading Program with both of our boys for our reading program review – a beginning reader (age 6) and a struggling reader (age 10). It's a downloadable program with a license for use on multiple computers around your home. There are no logins or account information, and it can be accessed from any computer that has the program installed. It can be downloaded and used on any computer that is running Windows 10, 8, 7, Vista, XP; or OSX 10.5.8 or higher on Mac Computers. We have been successfully using it on my Laptop running Windows 10.
Overall, the download didn't take very long, and the program runs smoothly. Although it can be used by multiple children, if they are using it on the same computer, you will have to make note of where they are in the lesson. Unlike programs online where children have access to their own account and progress is saved, this program isn't account based. Although it will start at the spot where a child left off, it does not save progress for multiple children. I simply make a note of what lesson each boy is in so we can pick up at the next lesson.


Although it is a progressive program, I opted to start our oldest son further in the program. It does start with the very basics of letter sounds, and although he is delayed, he is definitely beyond that stage. Our youngest, though, is a beginning reader, so I started him right at the beginning. There is additional information on how to use the lessons. It doesn't have a student placement test, but it does have a reading test to determine whether or not your child could benefit from the program.
Our oldest son has been working on sentences while our youngest has been working on individual letter sounds and blending them into short words. The program is rather basic. The lessons are essential done through scrolling over letter sounds and words. With our youngest, I sit down with him and do the lessons with him (not for him), but our oldest does lessons on his own.
Ultimate Phonics Reading Program Review
I thought because this program is less flashy, it might be more ideal for our boys. Unfortunately, this wasn't the case for our youngest. He has definitely done better with the "edutainment" programs. Our youngest was so put off by the monotone voice and basic lessons to the point that it was hard to get him to sit still for it. Plus, he didn't really progress at all on his own. He required a lot of my assistance because there were just too many letter sounds at once.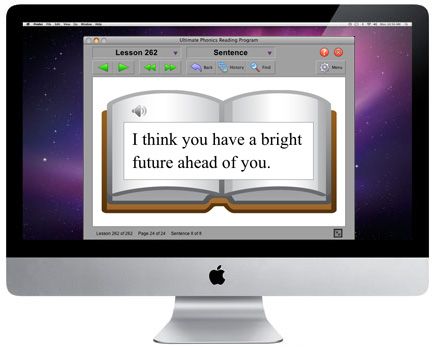 Our oldest has done OK with this program. He says he does like that he is learning new words. My biggest concern for him is a lot of his reading struggles involve not reading sentences smoothly. For example, he reads each word individually and not like it's part of a sentence. When he clicks on the speaker it does read the sentences as they should be said. It also allows him to scroll over each word individually, though. This is read in a monotone manner when scrolled over individually. I think it would be more helpful for it to highlight each word as the sentence is read rather than scrolling over each word individually.
Overall, I think Ultimate Phonics Reading Program can be a great resource for beginning and struggling readers. It could be used as a main program for beginning readers or a supplement for struggling readers. It is a supplement I am considering continuing with our oldest, but it just isn't a good fit for our beginning reader. I truly believe each child has different learning preferences and there is no "one size fits all," and that is definitely how I feel about this as well. If he's not interested, he just doesn't absorb any of what he's been learning.
Connect with Spencer Learning
Website | Facebook | Twitter
Various members of the Homeschool Review Crew have shared their Ultimate Phonics Reading Program review as well. They've been using the program with children of multiple ages and abilities, so be sure to check out their reviews by clicking on the banner below!