I had the chance to review Understanding Child Brain Development from Family Hope Center. Understanding Child Brain Development really breaks everything down piece by piece to fully understand how the brain develops, when, and where there might be a problem or injury. It is a very helpful way to look at brain development particularly for those that have been diagnosed with a developmental delay or special needs.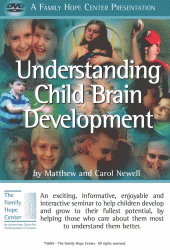 Understanding Child Brain Development is a video of a seminar by The Newells who are child brain developmentalists. They not only go into details of the brain development but also in what part of the brain each particular concern stems. It really is a lot of information packed into about 2 hours. Some of it was a lot to take in for me personally as I have one child on the Autism Spectrum and two with developmental delays and Sensory Processing Disorder. When they mentioned a connection between C-Sections and some of the brain injuries I was definitely surprised as all three of our children were born via C-Section unfortunately. What I also learned, though, is that if this is the connection that may be related to some of their concerns there is a homeopathic therapy that can help! This was very eye-opening for me because I truly had no idea! They also suggest crawling and creeping as ways to help your child's brain develop in ways it may not have developed correctly.
The Family Hope Center is really about offering an alternative to the idea that your child can't get better and gives parents a chance to help – and hope by offering these type of suggestions and intervention. Some I knew such as: a GMO free diet. Some I didn't such as: the major effect of EMFs from the games, phones, and computers as well as those I mentioned above. I admit I may be a little skeptical of some of the suggestions without actually receiving a full program, which I am sure is natural of a parent who has children with special needs – and one WITH special needs as I also have Sensory Processing Disorder. I am also one who is drawn to information, and their website is a wealth of information – including links to specific special needs. They create programs specific to the needs of the families that come to them for services.
Their stories of hope are wonderful. I cried when I watched the video for Autism because I could really relate to what the families were saying. Our son is high functioning on the Autism spectrum, but I have been there when people have given me looks or even told me I can't control my child. It's hard and disheartening. This video was really touching.
Because Understanding Child Brain Development was a video taken of a presentation there are parts that were a little harder to hear, so I just adjusted the volume when necessary. I found the information to be so fascinating I watched it all the way through in one sitting – except to get up here and there when needed. I think it is a good resource as well as Family Hope Center itself.
Understanding Child Brain Development can be purchased for $19.00. To order the DVD please call 610-397-1737 or you can order Understanding Child Brain Development from Institute for Excellence in Writing.
To read more reviews from the Schoolhouse Review Crew click on the banner below!