At this point in the year, we're about halfway through our homeschool year (we homeschool by calendar year). It's always nice to know how the kids are doing and if they're on target for the year. I try not to stress this too much because I believe kids should learn at their own pace, but it's definitely nice to have an idea where they stand – and it's helpful now that we live in a state that requires yearly reporting. So I was definitely intrigued by the A+ Interactive Math Adaptive Placement Test and Individualized Lesson Plan



The A+ Interactive Math Adaptive Placement Test and Individualized Lesson Plan offers multi-grade level testing to accurately evaluate a child's skill level. To get started, you choose a starting point. Because both of our children are learning at the 2nd Grade Level, this is the option I chose. We're actually repeating the 2nd Grade Level this year, so I was definitely curious where they are in regards to this level.
Once the Placement Test has been assessed it shows both strengths and areas of concern. Once weaknesses are identified, a Personalized Lesson Plan is then put into place to help close the gaps. The Adaptive Placement Test and Individualized Lesson Plans are accessed online, so it can be accessed on computers with Internet access. We use it on both my laptop and husband's desktop PC. There are printable worksheets as well that can be printed straight from the Lesson Plan.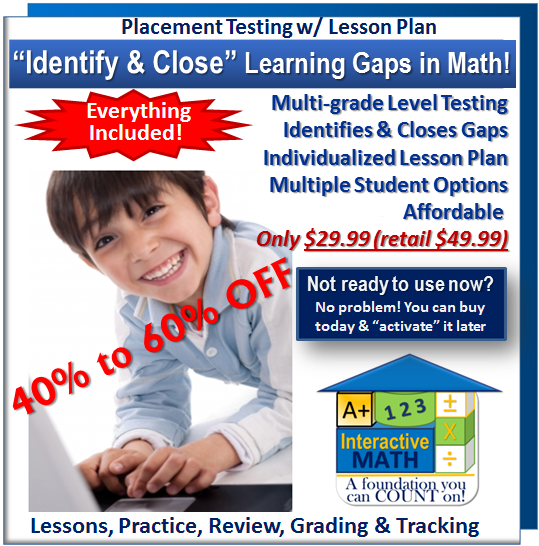 For our review we received a 3 month subscription for the Adaptive Placement Test and Individual Lesson Plan, and we have been using it with our older two children. The Adaptive Placement Test is easily broken down so it doesn't have to be one long overwhelming test. So we started at the beginning with the Placement Test. Our daughter (very surprisingly to me) had a lot of areas of concern after the first small Placement Test, so in that case, we proceeded with the Individualized Lesson Plan from there. Our son did well on the first test then proceeded to the second where there were areas of concern. So, we started his Individualized Lesson Plan there.
It didn't take long to realize this just isn't an ideal program for our daughter. She has been excelling at Math, and I actually feel a little guilty that I had her take this Placement Test, which resulted in so much frustration and tears. Once she is frustrated she just shuts down. I thought maybe she does need help in those areas, though, so I encouraged her to continue with her Individualized Lesson Plan. I determined this is just not a good program for her, though. I sat in on her lessons, and she can solve the problems, but not in the way she was being asked, which, I, personally, don't feel is the best way to teach/learn. So, I allowed it to be optional for her at that point. She would generally still do 2-3 lessons per week, but we skipped some lessons.
Our son continued with his Adaptive Placement Lessons 3-4 days per week. Although he does better with the A+ Interactive Math, he also ran into a few snags that caused frustration. Again, some of it was due to frustration with the methods being taught. In order to avoid frustration, I decided to skip lessons that used methods we don't use and/or support. After this, he went through the lessons without more frustration.
Each child has their own log in and Student Dashboard. From their Dashboard they have the option to take the Adaptive Placement Test, view their reports, view their lesson plan, or even view tutorials.


A+ Interactive Math features a Teacher Dashboard as well as the Student Dashboard. The Dashboard features a place that keeps track of all of your child(ren)'s grades. When they do the worksheets and lessons online it automatically logs and saves the grades in the Dashboard. I love that I get a quick snapshot of the progress of both kids. Unfortunately, I found the tracking to be unreliable, though. I had a hard time even knowing what lesson they were currently on because it wasn't saving information on what they completed or their scores. This happened a few times on both of their accounts. Luckily, they would help jog my memory, and I could manually add the score for each lesson and mark them as complete.
Each lesson starts with a video lesson for them to follow along with a review following the lesson. I like how the video lesson encourages them to interact by answering out loud. Then they were to complete the Interactive Questions for that lesson. I love that they have the option to review before going into the Interactive Questions.


A+ Interactive Math definitely offers a lot. It offers an interactive online experience as well as options to print physical worksheets. Although it isn't an ideal program for our family, I definitely think it's a great option for independent learners that learn well on the computer and are familiar with more of the methods used like grouping, for example, which was our kids' biggest challenge.
See the Top 12 Reasons You Should use this Program!
For more, be sure to connect with A+ Interactive Math on Facebook, Twitter and Pinterest.
Special!!
Right now A+ Interactive Math is running an amazing special! Receive 50% to 71% OFF on their Family Math Packages and Adaptive Placement Test with Individualized Lesson Plan! Order your program now!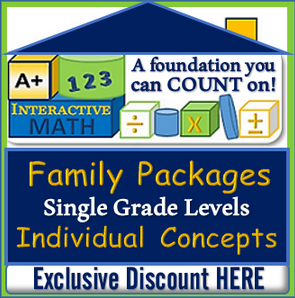 Many members of the Schoolhouse Review Crew shared their reviews of the A+ Interactive Math Adaptive Placement Test with Individualized Lesson Plans as well as their Family Math Package. Although this wasn't the best fit for our family, it works well for many families! Be sure to check out their reviews by clicking on the button below!