Our homeschool is all about flexibility. Some days we do a lot of hands-on work and other days the kids do a lot of independent work. Having resources the support independent learning is important to our family because it helps foster independence with our older children and also gives me a chance to work with our youngest son. Plus, having something we can access anywhere without toting around books and materials is a huge bonus since we're on the go a lot!
Standard Deviants Accelerate offers a variety of subjects for grades 3-12. Their video-rich learning system has received many awards and offers many different videos and activities online. For our Standard Deviants Accelerate review we received a one-year membership to all Homeschool Courses.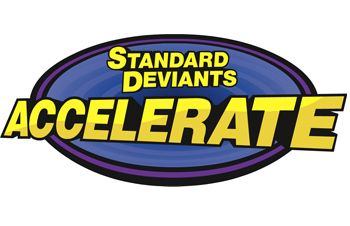 Standard Deviants Accelerate (SDA) offers a large variety of core subjects to supplement homeschool curriculum that engages children in learning through fun videos. Each subject offers one year's worth of content. It includes learning through a primary lesson with video instruction followed by related assignments. What I appreciate is that it adapts to the children's learning level.
The Homeschool Courses include:
Arithmetic (Grades 3+)
Fundamental Math (Grades 4+)
Earth Science (Grades 6+)
Nutrition (Grades 6+)
Biology (Grades 7+)
Algebra (Grades 7+)
Chemistry (Grades 9+)
English Comp (Grades 9+)
U. S. History (grades 9+)
AP Biology (grades 11+)
AP Chemistry (grades 11+)
AP U. S. Gov. & Politics (grades 11+)
AP Eng. Composition (grades 11+)
We have been using SDA with our oldest two children (ages 9 and 7) who are both at the 3rd Grade level in Math. Because there is only one subject available for their level, that is the only subject they have been using, which is the Arithmetic. We have been using it 3-4 days per week as a supplement to our primary Math curriculum.
Standard Deviants Accelerate is accessed online, so it can be used wherever there is an internet connection, which, of course, is great for families like ours that love flexibility. We haven't tried to use it on our mobile devices, but it has worked well on both the desktop computer and the laptop.


To access the lessons, each child is give their own login. I found this slightly inconvenient because the sign in uses an email address. Because our children are young and not yet independent readers, there is no reason for them to have their own email addresses. I had to use various other emails in order for each of them to have an account. This most likely wouldn't be an issue for older children that likely have an email account already.
Each lesson starts with a video which is presented in a way that actually keeps the kids' interest. This is a big deal because generally both of them will get antsy after just a couple of minutes. There is a box below the video in which they can take notes. which could be great for older students. Even if our children were able to take notes, though, they prefer to watch the videos in full screen mode.
After they have watched the video there are different activities related to the video. I actually missed this at first because rather than being on a separate page, it's simply in tabs on the same page as the video. So to go to the activities, they simply click on the tab for that activity. Activities vary from Vocabulary, Quizzes, Written Answers, Diagrams and more.


The very first activity they did after watching their first video was vocabulary, which they simply click on and listen. This made me hopeful because they really need more independent work, but unfortunately, that is the only activity (besides viewing the video) that they can do independently. For things like the Diagram I can run over to each of them and read the instructions quickly and allow them to then work on it on their own, but the Quiz is a lot of words in both the questions and the answers, so I have to sit with them for the duration. For the Written Answer we either skipped it or I had them answer me out loud.
Overall, I felt like we had a bit of an adjustment period, but once we found the way it worked best for us it definitely became part of our homeschool routine the kids look forward to. It can be accessed quickly and easily and the kids really do respond well to the style and have really done well retaining the information they're learning!
For more be sure to connect with Standard Deviants Accelerate on Facebook, Twitter, Google+ and Pinterest
Members from the Schoolhouse Review Crew with children of various ages and grade levels reviewed the different Standard Deviants Accelerate Homeschool Courses. Check out their reviews by clicking on the banner below!