Science4Us.com is an online interactive science curriculum for grades K-2. For our review, we received a six month membership to the Science4Us.com Online Subscription. Science4Us.com teaches the foundational science skills that are important for young children to learn and build upon for their science education. It teaches science in a way that is fun and easy for kids to understand and that doesn't require parents to have in-depth science knowledge so any parent can feel comfortable using the program.
Something that I find unique about Science4Us.com is they have been adopted here in Texas! Science4Us.com is inclusive of the Texas Essential Knowledge and Skills (TEKS) for Kindergarten, first grade, and second grade science. As Texas homeschoolers, we are not required to take statewide tests or bound by specific standards, but like many parents, I like to do check-ins on our children's progress at certain intervals, and TEKS is what I use to do so, which is definitely convenient for us!


We have been using Science4Us.com four times per week with our two oldest children (ages 6 and 7) as our main second grade science curriculum. There are different ways you can use the program as there is both a teacher log-in and each student has their own log-in. It covers Science Inquiry, Physical Science, Earth Science (and Space), and Life Science as well as many sub topics.
Teacher
As the teacher, I can choose and assign specific modules for each child or both children. Since our children are learning at the same grade level and are learning other subjects together as well they are both assigned the same modules. If you have children of different ages/grade levels, though, you could also assign them different modules. I chose to start in Physical Science with Matter as I felt this is something they have learned about and needed additional reinforcement. You can choose to assign them anything, though, as you have complete flexibility. Assignments can be full modules or individual activities.


I appreciate that each module has a thorough description, Teacher Support PDF, and a "Prior Knowledge Activity" PDF for each grade level to prepare children for the module. Each module also lists expected time frame, which is nice if you like to know in advance about how long the lessons will take. I found for us, personally, though, our children were done in a shorter amount of time than the lessons suggested, but I would prefer that rather than the other way around!
The Teacher area also has helpful videos if needed, which I found was great for getting started. Once I got started, though, I felt it was pretty easy to walk through everything. The videos definitely lay things out in a nice step-by-step manner. They even have a section of "Teaching Strategies," which I found helpful!
From the Teacher area I can not only assign modules, but I can also view progress on assignments, saved work, and grades.
Students
In the Student area they have access to the different Science "books," which are the different subject modules. If they have assignments, they will be shown right in the middle of the screen in a very easy to see area. When they first log in, it does have a video that walks them through how to do the assignments by recommending they start with the top left and go in order. Although they don't HAVE to do it this way, I asked them to do so, and since the video told them to do so, that is how they do the assignments. Both of them are very "by the book," so if that is what the video said, then that is what they will do!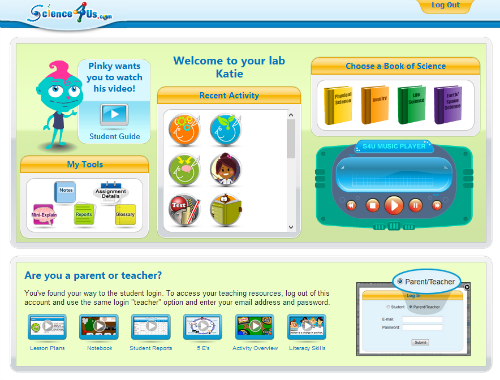 Although it said most lessons would take around 30 minutes, we found that was rarely the case, and they usually did 2-3 lessons each day. If they ever get stuck or confused there is a box called "My Tools" that has Notes, Reports, Assignment Details, a Glossary, and more. I like this feature because although I most definitely welcome my children asking me for help, I also like that this gives them the opportunity to explore help on their own. As they get older they are wanting to do more independent work, which can be hard for delayed readers, and I felt like Science4Us.com really offered that opportunity for them to seek out help independently.
As they progress through assignments, the completed assignments are marked with a star and removed from the main Student Page so the next time they log in the assignment at the top will be the next assignment they need to complete.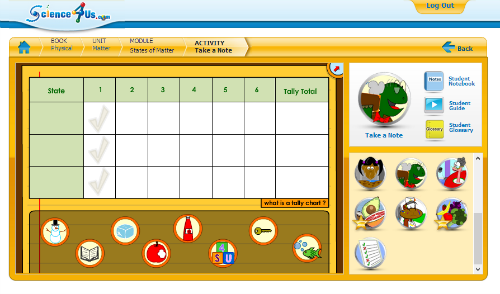 Overall, we're pleased with Science4Us.com. Our kids have really taken off with it, and I was actually taken by surprise. I enjoy that it is online yet engaging in a way that our kids enjoy at the same time. I like that it also offers the offline hands-on activities as well. Being able to assign the lessons is definitely important to me because our kids need (and do better with) structure rather than free reign. In this way I can also be sure I know what they are learning. As I am not certain yet how certain subjects we haven't gotten to yet may be approached, I like that I will be able to view them in advance, so I will know how I want to address it.
Science4Us.com is $7.95/month per child.
Many members of the Schoolhouse Review Crew also reviewed Science4Us.com. Click on the banner below to see how they used it and how it worked with their families!