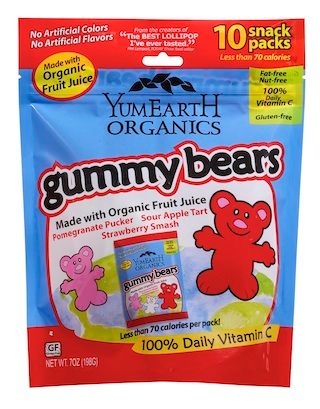 Valentine's Day will be here soon, which means our kids will be surrounded and tempted by sweets and treats! We probably will be, too! So, why not offer a healthier alternative like YumEarth Organics? YumEarth offers candy that contain healthy ingredients and taste good. YumEarth was born out of their commitment to feed families a diet rich in delicious healthful foods free of high fructose corn syrup and artificial dyes. YumEarth tastes better because they choose real fruit extracts and planet friendly ingredients grown on sustainable family farms. YumEarth is also gluten-free and nut-free.
My review:
For my review I received a bag of YumEarth Organic Gummy Bears. Boy were the kids excited! We don't often have colorful treats due to the food dyes, so I am really glad we found a healthier alternative! They are really glad, too! I couldn't it out of the bag soon enough! We happened to receive the package when it was snack time! I never thought I'd give them Gummy Bears for snack time! After reading the ingredients and already knowing what I've learned about YumEarth, I felt good giving them such a treat for snack time! I had some myself, of course! In the large bag there are 10 smaller, individual bags with the perfect serving size. They're great for on-the-go as well!
I think they're not only a great alternative to gummy sweets but also to fruit snacks that contain food dyes! They are definitely a great alternative to the sugary sweets that are all over for Valentine's Day! They taste great, and we all enjoyed them. I love that they also have 100% Daily Vitamin C! It's that time of year where germs are everywhere, and Vitamin C helps boost your immunity! So if you're looking for sweets for your little sweets I definitely recommend checking out all YumEarth Organics has to offer!
For More Information:
Visit the YummyEarth Website
Connect with YumEarth on Facebook
Follow YumEarth on Twitter.
*Giveaway!!* Ended 2/13/13
Thank-you to our amazing co-hosts: Meg's Daily Bytes, Reviews and other Online Distractions, Giveaway Gator , Mommy Lesson Plans, and Couponing with Integrity, and all of the amazing participating bloggers!
About the Giveaway: This giveaway begins on 1/30 at 12:01am and ends on 2/13 at 11:59pm (times are EST) and is open to US residents ages 18+. Please refer to the full terms and conditions in the Giveaway Tools.
The Prize: A bag of YumEarth Organic Gummy Bears!
Disclosure: I received the product mentioned above in exchange for my honest review. Regardless I only recommend products I feel would be good for my readers. I received no additional compensation for this publication. My opinions are my own and may be different than yours. Pea of Sweetness is not responsible for prize fulfillment.