Do you just love corsets? What about corset dresses? I didn't even know there was such a thing as a Corset Dress! Corset Chick has them, though, and they are awesome! Corset Chick is definitely THE place to buy Corsets. They carry such a large variety of Corsets and Corset Tops! Whether it's a regular or plus size corset that you need – Corset Chick is the place to go! They have low prices on corset dresses or plus size corsets. Although they are very low in price, the corsets are great quality!
For my review I chose a brown Corset Top. It was so hard to decide because I liked so many of them, but I really love the corset tops because it's something I could just wear! I also really love polka dots, so it was so perfect for me! When ordering a corset you do have to follow the size chart carefully because it's a little different than what I, for one, am used to. Going by the size chart, though, I was able to choose the right size, and it fits nicely! The corset has fasteners in the front and then, of course, ties in the back. I was really impressed with the quality particularly given the low cost! I had my husband help me tie up the back after fastening it up front, and I love the way it looks! I also love the functionality. Obviously a corset is designed for a purpose as well as looking nice! It really does pull everything in, and one thing that is beneficial for me in particular is I have terrible posture, and it straightened me up! So, that is just an added benefit to the nice looks is it actually serves a nice purpose for me as well! As you can see, it also still fit despite my smaller bust size, which was definitely a concern. In fact, I was surprised how nice it looks despite that!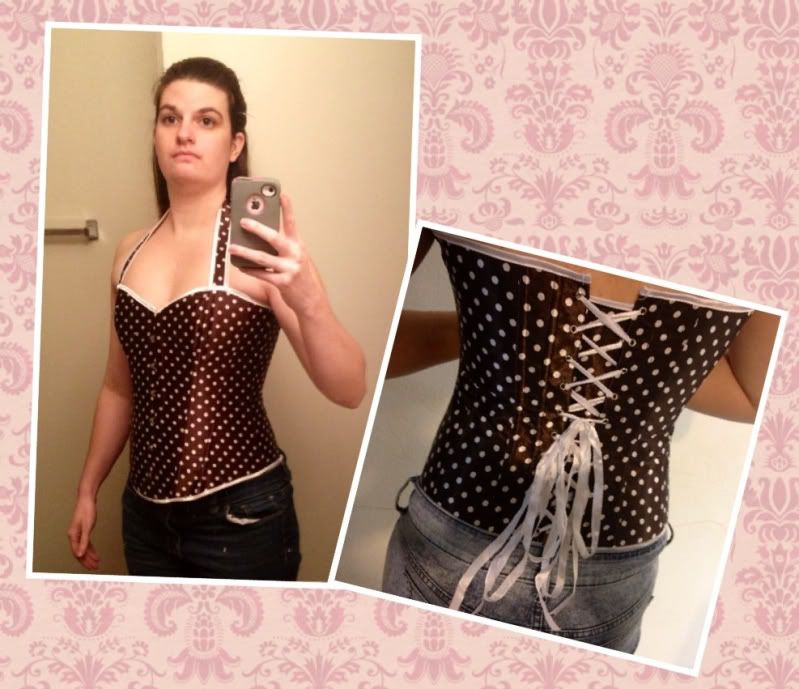 I was also impressed, overall, with the ease of use of their website and the availability of customer service such as the live chat feature. I noticed they also accept PayPal as well as Bill Me Later, which is a nice feature! It definitely makes for convenience when it comes to ordering! You can also sign up for their newsletter to receive coupon codes, news about special sales, contest information to win free stuff, and more!
For more information:
Visit the Corset Chick Website
Connect with Corset Chick on Facebook
Follow Corset Chick on Twitter
Giveaway!!! (ended 3/14 – Thanks for all who participated!)
About the Giveaway: This giveaway begins on 2/28 and ends on 3/14 at 11:59pm (times are EST) and is open to US Residents ages 18+. Please refer to the full terms and conditions in the Giveaway Tools.
The Prize: One lucky winner will get to choose any corset at a $30 value or less
Disclosure: I received the product mentioned in exchange for an honest review. I was not required to write a positive review. No other compensation was received. All opinions I have expressed are my own may be different than yours. I am disclosing this in accordance with the FTC Regulations. Pea of Sweetness is not responsible for prize fulfillment.