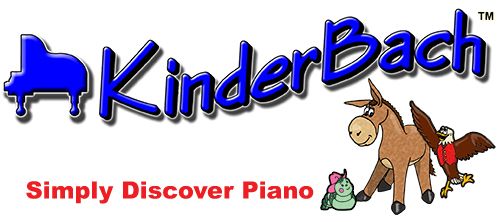 We were excited to kick off the Schoolhouse Review Crew year with a review of KinderBach! We received the The KinderBach Online Piano Lesson Membership with Teacher Corner for our review. KinderBach encourages starting music education between the ages of 3-7 and offers an online program for teaching music and piano without needing previous experience.
I was particularly excited that all three of our children are in the age ranges. They are 3, 6, and 7, and we have been using KinderBach together as our main music curriculum 3-4 times per week. Although our older two children have used piano before, we decided to start at the beginning so we could include our preschooler as well. Because KinderBach is so much more than "just piano lessons," I felt like this wasn't a problem. Our older two children really enjoy the lessons and have not mentioned that they feel they are too easy or boring.
In fact, I think what we enjoy most about KinderBach is that it isn't just get on the keyboard and play. It truly builds upon the basics and incorporates a broad range of activities like coloring sheets, cut and paste, rhythm, marching, dancing, and more. There isn't a lesson that wasn't fun. Even our preschooler who tends to be a little reluctant was eager to get involved as soon as he knew it was "music time."


With the Online Piano Lesson Membership, there are easy to follow videos and printable PDF books for the activities. I also got a lot of use out of the Teacher Corner as well. I found that the Lesson Plans helped guide me a little and helped me to know what to expect for the day. Having multiple children, I sometimes opted for the printouts from the Teacher Aid book and laminating the printouts for all three children to see rather than having them each do separate activities with them.
What I like most is that I have the option to do either – whichever happens to be best for that particular printout. Sometimes we do both! For Dodi's house they each colored their own sheet and circled the keys that could be Dodi's house, and we also have the color copy from the Teacher Aid book that we use dry erase marker on to practice circling Dodi's house over and over again!


KinderBach starts with Dodi's house (which is a fun way of teaching the two black keys), high/low notes, finger numbers, and quarter notes (taught as "walk"). It continues to build on those basics then expand from there. It really makes it easy for those that may be unfamiliar with music themselves as well as making it a great start for young children as they need to learn more than just playing piano, but the basics of music as well. Because it is presented in a fun, easy way that young children can understand it was also effective in engaging our children in learning.
Each lesson takes us around thirty minutes, but we also tend to repeat a few of the activities because the kids like it so much. The "high/low song" is one of our favorites, and everybody is laughing at the end. It's really quite a workout, too!
KinderBach has even noted a correlation between "the three R's" versus those who didn't have music education. So although it is a music curriculum, it is also helping prepare children for success in the key educational areas as well.
The KinderBach Online Piano Lesson Membership with Teacher Corner can be purchased for a special price at the time of this post for $95.88/year (works out to $7.99/month – regular price $130/year). They offer a Free 2 Week Trial and 30-Day Money Back Guarantee.
For more connect with KinderBach on Facebook, Twitter, Pinterest, and YouTube.
Ninety members of the Schoolhouse Review Crew have shared their reviews of KinderBach. Click the banner below to read all of the reviews.