I'm sure I've mentioned many times how amazing it has been to be part of the Schoolhouse Review Crew. Little did I know I would also get to review great homemaking resources as well! Let's face it, homemaking can become a daunting task while homeschooling, and a little extra help is greatly appreciated! I had the opportunity to review 3 ebooks from Simplified Pantry:
You may have noticed I changed my tagline recently to "My journey to Proverbs 31," and it has everything to do with the fact that I want to be a better homemaker, but I'm just not "there" yet. Time management is a big problem, and with time management problems come poor planning in the kitchen. When I saw the title "Simplified" I knew this would be right up my alley. Mystie Winkler really has done just that in Simplified Dinners – she has truly simplified the process after she experienced the mental exhaustion many of us face at some point in time. Her Simplified Dinners is exactly what I needed. I had been searching for something similar and just couldn't put my finger on what I needed to do. I was buying a TON of ingredients then finding I still didn't have all that I needed and wasn't using all the ingredients I did purchase! It was a frustrating cycle! Plus, when everything is simplified grocery shopping is MUCH easier! No more 2 page long check lists!
The main purpose of "Simplified Dinners" isn't necessarily to provide recipes as much as it is to provide a general method of certain standard family dinners. Each page gives a basic method for the meal type and specific combinations are listed below for different varieties. Her purpose was to see how far down she could pare down her pantry and still create plenty of meal options. This is EXACTLY what we were needing! I was overjoyed cleaning out my pantry of things I honestly needed to get rid of long ago and knowing I would no longer have items that would sit there for too long and not get used. She then includes a "Master Pantry List," and (get this!) it all fits on ONE page!
The remainder of "Simplified Dinners" are the (incredibly simple) recipes with a few notes on different options followed by a large variety of Side Dish options, and example of a Menu Plan, and a blank Menu Plan. I think "Simplified" really is the perfect description. "Simplified Dinners" can be purchased for $12.99.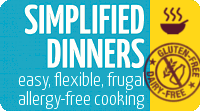 Mystie also offers Simplified Dinners Gluten Free/Dairy Free. This really appealed to me because it has been suggested to us to try a gluten-free diet due to the kids' and my own special needs. I have tried this idea a couple of times and found it complicated because I thought I was on the right track then would realize I overlooked something that had gluten. I had someone tell me it has to be "all or nothing" with a gluten-free diet. So if we're going to be gluten-free, it truly has to be COMPLETELY gluten-free. To be honest, I wasn't sure we could do it then. I knew there were health benefits (and I know there are health benefits to dairy free as well), but we don't have an ALLERGY, so is it worth it?
Well, again, Mystie has really simplified the process. She has included a master list of ingredients in which gluten and dairy may be hidden, which I found to be extremely helpful. The master pantry list is once again only one page long! "Simplified Dinners Gluten Free/Dairy Free" is otherwise set up exactly like "Simplified Dinners." I started with "Simplified Dinners" first and plan on transitioning over to "Simplified Dinners Gluten Free/Dairy Free." Thanks to her set-up, I know this will be simple! "Simplified Dinners Gluten Free/Dairy Free" can also be purchased for $12.99.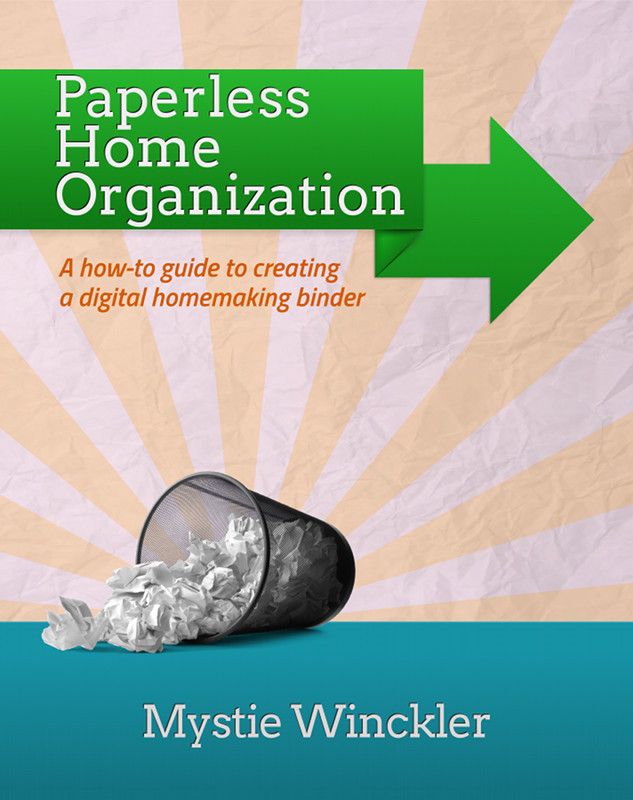 The 3rd ebook in this review is "Paperless Organization," and it is absolutely amazing. I also found it ironic that a book I was reading about homemaking suggested I purchase this ebook! So, it obviously has some credibility as well! I definitely understand why. In "Paperless Organization" Mystie helps you move everything from paper binders, files, etc. to electronic organization using mostly an app called Evernote, which is available on your computer and smart phone and tablets. She compares it to having binders with tabs and papers. Stacks are binders, Notebooks are tabs, and notes are papers. So if you currently use a binder system it would be very simple to transfer over to this system! I tried Evernote a long time ago, but until I read "Paperless Organization" I really didn't know how to use it and definitely overlooked its full potential. It is definitely now my "go-to" for organization, and I use it every day. As she quotes it is the "workhorse" of "Paperless Organization." Even when I just need to "jot down" a quick note I simply pull up Evernote and either snap a picture, type a note, voice a note, etc. It's so easy! She also provides pre-made templates for things like your daily checklists and weekly checklists. Again, this is key in homemaking, and it is exactly what I've been needing to get myself more organized so I CAN get on that right path I've been seeking! Prior to "Paperless Organization" I was a bit of a scatter brained organizer. I wrote random notes, made random lists, and kept them all in random places. I had good intentions, but I often forgot what I wrote or where I put it! This is a much more efficient system, and I love that it is paperless, which is also much better for our environment as well!
The other components used in "Paperless Organization" are Google Mail and Calendar, and she walks you through the set-up. I already had Google accounts, but there were things I do dislike about Gmail that I didn't know I could change until she pointed out how to do so! She also gives tips about keeping the inbox uncluttered, which is a big deal for me because every morning I have over 100 emails, and that has been really stressful to tackle each morning! With her system in place I've learned how to prioritize messages to skip the inbox and go straight to other folders if necessary or even straight to Evernote! It's amazing! She also gives tips on keeping Google Calendar more organized!
The final component she suggests is Remember the Milk. I have to admit, I was stubborn on this one because I have a lovely set-up in ToDoist. I have tried Remember the Milk before and didn't like it nearly as well as ToDoist, so I opted to stick with ToDoist since I love it so much (and I'm stubborn). I otherwise followed the guidelines and suggestions used in regards to using the program as a component in the whole Paperless Organization system.
Overall, I wouldn't say I'm completely paperless yet because I have A LOT I still need to transfer over to the paperless system, but anything current definitely goes straight to the paperless system, and it has made a big difference in my productivity. It's amazing how refreshed I feel because I don't feel as "out of sorts" when I actually have things organized! Plus the Paperless Organization system is so easy to share with my husband that if I do have a bit more than I can handle in a day I can simply let him know, and he can log in and see if there is anything he can check off the list! It is great for the whole family! "Paperless Organization" can be purchased for only $3.99!
*Plus as a special offer Mystie is graciously offering 30% off to my readers now through June 3rd! To take advantage of this great offer please use the code TOS2013 when checking out!*
For more Simplified Pantry reviews from the Schoolhouse Review Crew please click on the banner below!