2012 has been interesting for us in many ways. We began many new adventures! In January we were still settling in to our house on Fort Hood after moving down here from Fort Belvoir near Washington DC just a couple months prior. I knew I was going to continue homeschooling even though we had just begun. I did my research to find Texas is a VERY homeschooling friendly state! Whereas Virginia required my diploma, letter of intent to homeschool, and a curriculum, Texas didn't require any of it! I was looking forward to the ease of transition at least for homeschooling since many are aware moving with special needs kids is definitely NOT an easy transition! We actually delayed finishing up our homeschool year quite a bit, but because I knew 1st Grade would recap a lot of Kindergarten and Brayden overall seemed ready, we decided to take the summer off anyway. I was hoping my instincts were right. Praise the Lord they were!
You may remember the pictures I posted on our first day of the 2012-2013 year. If not, or if you missed that post, let me share again!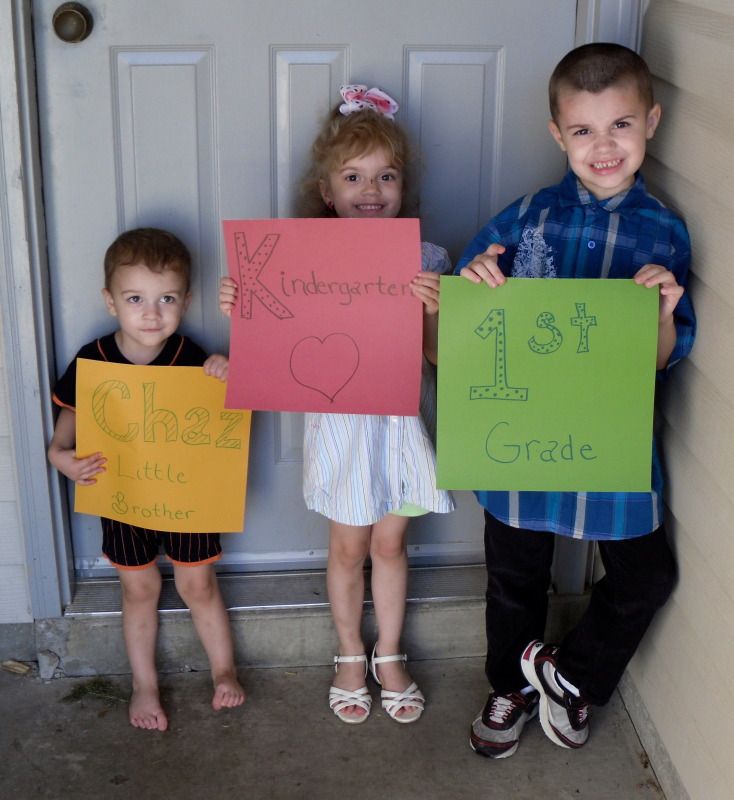 I know I mentioned the curriculum we chose. What I may have failed to mention (OK, I'm almost certain I did) is that I had every intention of starting Aurora at the 1st Grade Level with Brayden. I would teach them simultaneously, and if I needed to fall back to Kindergarten for workbooks, etc. I would. That's one thing I love about homeschooling – the flexibility! I know many that their children do one grade level for a certain subject and another grade level for other subjects. This allows them to be THEM. I think like a lot of things we try to put education in a box – a "this is what they SHOULD do" box. I knew she was ready for more because she was bored last year with the Preschool level, so I let her do some Kindergarten work, and she was even bored with that! I want our kids to always be able to learn at their full potential. Clearly, though, I was afraid I would receive some backlash, negative comments, etc. because you can see I put "Kindergarten" on her sign. Well, we are halfway through the school year, and she has only done Kindergarten work once this whole time. Otherwise, she has been plugging away with her big brother on the 1st grade curriculum, and they are both doing great!
I also told myself we would do "more" this year as far as group field trips, co-ops or other type of group activities, and between their having therapy 3x per week, my husband's doctor appointments, and sharing one car, it really hasn't worked out well for us. There are a few things I've learned, though, in our attempts:
If it requires us to leave the house before 9am, accept that it won't work out. I tried this a few times just to end up with major meltdowns, and we stayed home. It can be somewhat frustrating, but I have to remember this is who we are – special needs and all, and mornings just aren't a good time for us.
If it's on a therapy day it makes for too long of a day, which may seem OK until that night. I had to evaluate the situation and determine it wasn't worth the emotional overload it put on them.
It's not required, and it's not "hurting" them. Again, I feel as homeschoolers we get a lot of pressure, and "socializing" is one of them. They are in therapy 3x a week, which gives them a chance to interact with different people all the time. Plus we go out and about a lot, so they are constantly around others. They actually do better in natural situations versus planned situations. Looking back on it, I don't feel any regret and will continue to do what is best for our family's needs versus what people "think" we need. Besides, God new what He was doing when he blessed us with this opportunity, and He does a great job taking care of us! And yes, I'll say it, "I socialize my dog, I educate my children." I particularly like that quote because I used to be a dog training, and I always talked about socialization, and that is always what I think of when people use the term "socialize" with children.
I haven't given up altogether on group activities, but it's definitely hard to find any that work around such a tight schedule. I also think it will go over much better once Chaz is a little older because he is often the one that has the hardest time with those type of adventures, and then that rubs off on his older siblings (and me), and then everyone is unhappy! We are part of a few groups here, and at the very least we get a lot of great ideas for things we can do on Tuesdays or Thursdays (when they don't have therapy).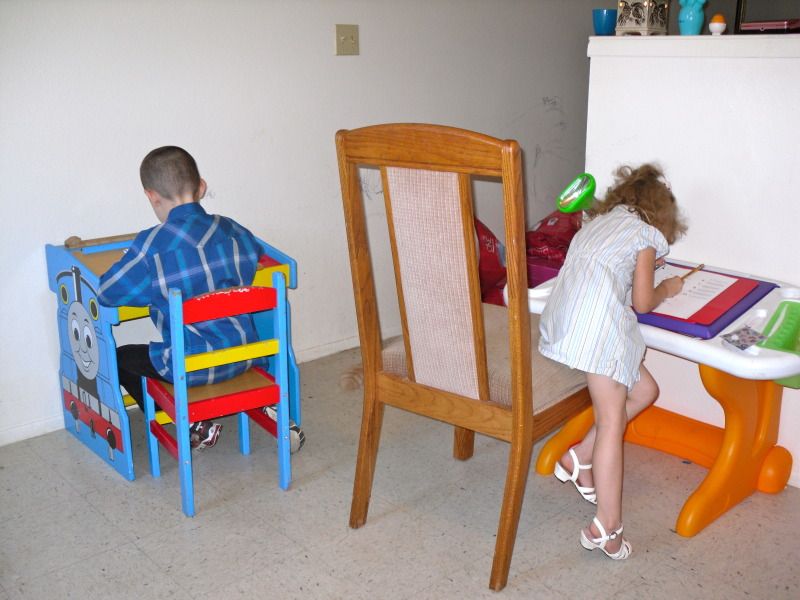 Overall, the 2012-2013 year has started out great despite not going the way I had hoped with the groups. Brayden did graduate to a bigger desk than the one pictured above, but it took a lot of convincing to give up his beloved Thomas desk! Brayden and Aurora are both doing really well, are getting better with handwriting (which is a challenge for both due to motor skill challenges that are also being addressed by their Occupational Therapists), are reading short words and even some short, simple sentences, and are doing great in Math! Aurora is a little artist and is great at drawing, and Brayden is a "thinker" and is great at puzzles and strategy type scenarios. I'm really excited we'll have a chance to review some new curriculum this year as well. Even Chaz is going to start doing a little bit of "school!" He generally entertains  himself on the iPad while I teach his siblings, but at least there are some great learning apps!
I will be doing a half-year evaluation next week just to gauge how we're doing in terms of academics as well as implementing an SEP for all 3 kids like the one I discovered on SchoolhouseTeachers.com. I feel really great about where we are, though! I am definitely looking forward to the next half of this school year and many more to come!
Read some other great 2012 reflections from the Schoolhouse Review Crew Blog Cruise!