Field trips! Field trips are something we often do on a whim. Although I don't think there is anything wrong with taking field trips on a whim, I really want to try harder to be more intentional with our field trips – not only in planning the field trips themselves but what we learn on field trips as well. I was excited to review the Exploring Creation Field Trip Journal from Apologia Educational Ministries.



As you may guess from my comment about taking field trips on a whim, we don't take big, group field trips. Although we have found some in our area, it often doesn't work out either because it's in the morning (we're not morning people – AT ALL) or something was limiting us that day – either our health conditions or the kids' special needs. What I appreciate about this Field Trip Journal, though, is it's not limiting, and it acknowledges even little field trips are important.
The Exploring Creation Field Trip Journal is a spiral bound book with just over 60 pages. It includes resources for having a successful field trip such as preparing for a field trip. The preparation information is so detailed from things to do the week before, the night before, on the way, and even at the "field." This is the piece we've really been missing to make our field trips more intentional. I love that it not only includes preparation tips, but field trip ideas as well! They even include a special link with password for more great resources!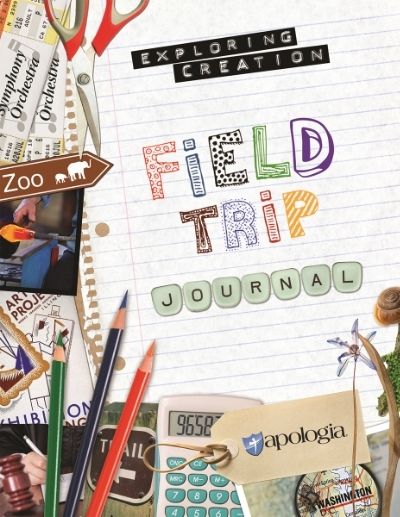 The journal is divided up into sections:
Places I've Explored – Here you can make notes of all field trips taken and location.
Field Trip Pages – Here you can share details of a specific field trip.
My Special Spot – Here you can share details of your special spot in wildlife with details.
As I See it – Here you can share special thoughts and drawings. Some pages contain prompts while others are blank to allow for imagination!
We have been using the Exploring Creation Field Trip Journal as a family. Because all of our children are beginning writers, (in addition to planning field trips) I've been having the kids dictate to me what they would like me to write down about our trip. I allow a small section in the journal for both kids, but soon found out our preschooler wanted to share his thoughts as well! Luckily, there was plenty of room as each child only shared a tidbit.
For older children who are writing, I would definitely recommend having one journal per child so they can each share their full shots, favorite pictures, etc. In the Specific Trip pages there is an area for both a map as well as a picture. They have the option to draw a picture, and although our daughter loves to draw, we decided as a family to print out pictures to add. I just need to print the pictures!


One of the trips on which we used the journal was Cedar Point. I asked the kids to specifically focus on the Town Hall Museum because although there is definitely a learning experience in an amusement park by itself, I wanted to dig into some history! So we used the journal to plan our trip and took it with us, of course!
Although the kids wanted to include their trip to the park itself (which I made note of in the "Something I never want to forget" I challenged them to think of the Museum itself, and they shared what they enjoyed most. Open-ended questions (even asking what they enjoy) can be challenging for them, so I like that this got them to think and talk about things they learned even if it was basic.


I like that the journal recommends asking open ended question at the "field" as well – not just for the journal area. This is something I don't often do, and I did find it really helped to open up the kids' thoughts and understanding on what we were actually seeing.
We haven't yet used the My Special Spot area because we're still newer to our area, and we're still finding that "special spot." The As I See It has been a little challenging for our kids to understand what exactly they are to be doing. I explained they can draw pictures or dictate something to me to write, but I think the best way for us to use this is going to be at a specific location so they can do the drawing or dictating while we are there, which I didn't think about until after the fact!
Overall, I am so thrilled we had the chance to review the Exploring Creation Field Trip Journal. We have documented two field trips (the other was a local park), and it has helped me plan more! It has definitely helped me become more intentional with our field trips, and I think even if we take one on the whim, I will still have the guidance it offers at the "field" as well as preparing on the way there!
For more, be sure to connect with Apologia on Facebook, Twitter, Pinterest and Google+.
Do you want to see what other Schoolhouse Review Crew members thought of the Exploring Creation Journal? Click on the banner below!