We were so excited for another opportunity to review great treasure hunts from Clued in Kids. For our review we received the Playdate Clue Pad and the Winter Treasure Hunt – a printable treasure hunt. These treasure hunts appeal to a wide variety of ages and are noted to be geared to ages 4 and up.
We did both treasure hunts with all three of our kids who are ages 4, 6, and 8. Our 4 year old wasn't able to do some of the activities in the treasure hunts (like the math problems), but doing them all together as a family really helped to keep him involved, and everyone was having fun! I also had to help our older two children with some of them as well, which I will share in detail in regards to both treasure hunts.
Both of the treasure hunts took less than 10 minutes to set up, and it was easy to place the clues around the house. The whole process is laid out so simply, it's easy to get it all set up and ready for the fun! Not only are the clues marked at the bottom with the specific location in which it needs to be placed, but I was also provided with an answer key as well. It's great for someone like me that doesn't have a sharp memory!


Each clue also has a line to write the child's name. If you have multiple children going on the hunt together it is recommended that you write their names on specific cards so there won't be any arguments over the cards. This is definitely a helpful feature!
Winter Printable Treasure Hunt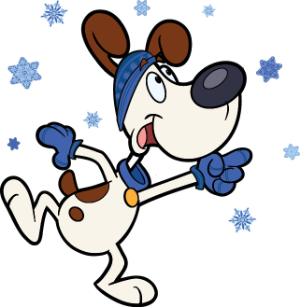 The Winter Printable Treasure Hunt is not a physical product. It is printed from the computer, which also means it isn't finitely consumable! It can be printed over and over for fun with family and friends as well!
I know what you're thinking – it doesn't get very "wintery" in Texas, but that doesn't mean we can't have some fun indoors! In fact, just last week there were a couple of days that were 90 degrees or close to it, so we were actually trying to avoid the heat! It was a great time to have some fun indoors.
The Winter Treasure Hunt had educational problems that were too advanced for any of our kids as they are not yet doing multiplication or division and are beginning readers. Another advantage of having a "Name" line on each clue in this case is that instead of natural turn taking (which never seems to work out for us anyway!), I could assign the clues to the appropriate child based on difficulty.
Though we worked on the trickier ones together, there were others that I knew our 8 year old was able to do but not our 6 and 4 year old as well as those our 6 year old could do that our 8 and 4 year old could not (she is the strongest reader, for example). It was a great educational opportunity, and we had fun!
Winter Printable Treasure Hunt can be purchased for $5.99.

Playdate Treasure Hunt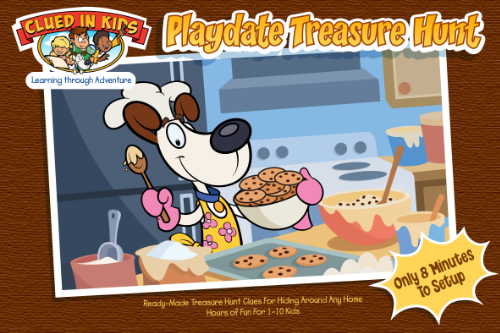 The Playdate Treasure Hunt Clue Book is a physical product, so once you use it, it is done! The clue book looks very sleek, and the pages tear out easily. The pages are easy for the kids to write on, and they're a great size!
With the exception of reading, our 4 year old participated completely in the Playdate Treasure Hunt with our older children. He even decided he wanted to do some of the basic math problems that were on the clue assigned to our daughter. She is great at sharing and even helped him to answer them! I loved watching them all work together!
There was only one clue that I had to offer full assistance. It was a page with jokes. Because of our kids' special needs, they tend to take things very literally, which means jokes can be a challenge. After answering them myself, I still got blank stares! Ha!
They had a blast, and I loved that there were fun physical activities in this treasure hunt as well. They got to sing the ABC's while pretending to hula hoop and pat their head while rubbing their tummy and hopping on one foot. They did amazingly well! I can't even do that!


The Playdate Treasure Hunt Clue Book can be purchased for $8.99
Overall, we really enjoyed these treasure hunts! They are both fun and educational! They are perfect for fun indoor activities for young children and their friends and family!
For More Information:
Visit the Clued in Kids Website
Connect with Clued in Kids on Facebook, Twitter, and Pinterest
You can also check out their information for their Christmas special!
Members of the Schoolhouse Review Crew reviewed a variety of Treasure Hunts from Clued in Kids. To read their reviews, click on the button below!