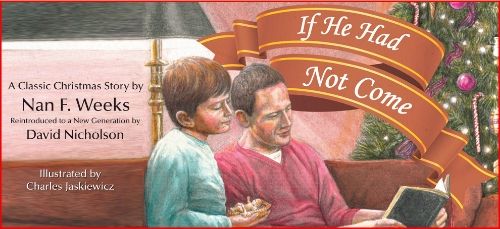 We had a chance to review If He Had Not Come from David Nicholson. It is a book related to Christmas that is ideal for ages 6 and up.
If He Had Not Come is a thought-provoking story about what it would be like if Jesus had not come. Despite being excited about Christmas the next day, Bobby can't get the words "If I had not come" out of his head after reading the Bible with his dad. Except the next day didn't seem like Christmas at all! Not only were stores open, factories working, etc. nobody even knew what Christmas was! Could he be imagining this?
This world without Jesus is not only confusing, but scary as well! There are no churches, no hospitals, no places to help the needy. It is really thought-provoking, not just for the kids, but for us as well! What would life be like if Jesus hadn't come? There definitely wouldn't be Christmas, but what else would be different? Would we face a world without churches and places to care for the needy? A world where being kind just isn't the "normal?" Could you imagine being the only one who knew about Jesus and understood that this is what life would be like if He had not come?


Although the book is recommended for ages 6 and older, it's not uncommon for our 4 year old to also sit in on a story with our other 2 children as well (ages 6 and 8). At first, he didn't seem interested, and I didn't expect him to be. Although the illustrations are beautiful, the story line really is in depth. Surprisingly, though, he eventually decided he wanted to join in as well!
What I appreciate about If He Had Not Come is not only does it offer an important message in a thought-provoking story, but it also offers the opportunity to dig deeper in the back of the book. There are a variety of questions to discuss the book from basic overview questions to more in depth discussions, activities, etc.
Because our children are younger, we went over the basic questions/discussion that are first listed. Even then, it was a lot more discussing on my part to encourage responses. I only went over the questions and discussions with our older two children. They do have challenges with open-ended questions, but I still thought it was very constructive and helpful to really reinforce the important message reflected in the story.
It asks them to think about how they would feel if they had a day like Bobby where he discovered Jesus hadn't come. Is it confusing, scary, a little bit of everything? It asks them to consider more deeply what would life be like if Jesus hadn't come. What might not be here? What might people be like if they never knew Jesus? It's really a great set of questions!
Overall, I think If He Had Not Come is a great Christmas book for children because it really helps reinforce what Christmas is all about and helps children to understand the importance of Christmas – celebrating Jesus's birth. How blessed we are that he did come! If He Had Not Come can be purchased for $18.95.
Connect with If He Had Not Come on Facebook for more.
Many members of the Schoolhouse Review Crew reviewed If He Had Not Come with their families with children of multiple ages. Click the banner below to read their reviews!