Do you ever feel like you can't quite "get it together." I know I feel that way often. It's not easy to balance everything. There is homeschool, housework, field trips, homemaking, activities, etc. The list goes on! I need a good homeschool planner that helps me organize other tasks as well! That is why I was excited to review Homeschool Planet from Homeschool Buyers Co-op!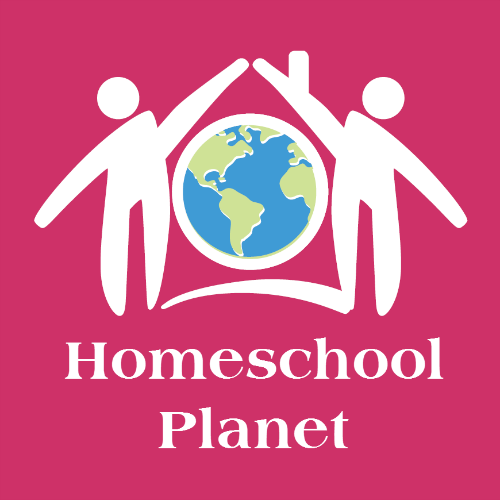 Homeschool Buyers Co-op is the world's biggest buyers club for homeschool families. They offer homeschool curriculum at a low price as well as homeschooling resources. They are homeschoolers as well, so they understand the needs of homeschool families and strive to offer the best deals and products to homeschool families.
If you're like me you've probably tried a lot of homeschool organization programs or planners just to find they just didn't exactly fill all your needs. Homeschool Buyers Co-op introduced Homeschool Planet to fill a void they were seeing in homeschool organization programs and planners that was not confusing or too limiting.
Homeschool Planet is an online planner that you can access anywhere you have Internet. It can be accessed both on a computer as well as many mobile devices. Everything is saved within the program online, so you don't have to add anything to your desktop or worry about deleting a program or app. Whatever you save will be saved within the program so you can access it across devices without any changes.


For our review we received a one year membership to Homeschool Planet. The first thing I noticed is that it is full of features. At the same time, though, I didn't feel overwhelmed by these features. I found the site is very easy to navigate and offers a very flexible system. As someone who homeschools year-round and by the Calendar Year verses the "traditional school year," I found it was simple to set up the calendar according to our schedule.
Not only can you easily organize everything, but there are many customization options as well from the theme to widgets that can be added to the main page. Widgets include quote of the day, daily Bible verse, To-Do lists, shopping lists, and more! It even allows for text messages. I love that I can set it up in a way that is "just right" for us!


Homeschool Planet offers separate logins for family members. Although our children are too young for this feature, it's nice that older children can view their assignments and check them off. In fact, one of the features I love about Homeschool Planet is that it works well for the whole family. Not only can they log in and view things, but it can be set up that the whole family receives the daily digest emails, to-do lists, shopping lists, etc. Even better is I have synced my Google calendar with it as well so I can see things I already have in that calendar on our Homeschool Planet calendar as well.


On the calendar you can see my Google calendar shows up as a different color (which you can choose). What I love most about the flexibility of Homeschool Planet is that when I see we have an appointment at a certain time, I can simply click and drag any overlapping classes to a time before or after the appointment. This has really simplified everything for us.
Homeschool Planet offers two main views. The Calendar View allows you to see all calendars at once (including any calendars you have synced with it). You can choose to do the full Calendar view or a Condensed Version. I prefer Calendar View because I'm a visual person and like to see exactly where it is on the Calendar. The Planner View allows you to see everything you need to do and when it needs to be done.


Additionally, Homeschool Planet offers help tracking all the things I didn't have to worry about when we lived in Texas. Now that we live in Ohio, I have to keep better track of things like attendance and grading. It's so simple to keep track. If they completed the lessons for the day, you don't have to do anything, it will track it automatically, but if they didn't, you simply go in to your School Year Calendar and change the green check to a red "X."
This feature is also is nice because we don't often plan time off in advance, so I plugged in our full school year knowing we would take many breaks (which is one of the reasons we homeschool by calendar year), and I could simply mark that we took those days off.
Another feature I found very helpful is that when assigning classes, I could assign the same class to all students at the same time. Our oldest two children are 20 months apart in age, but they are learning at the same level right now, so I schedule all their classes together. It was nice to be able to just check both of them rather than assign it to each of them individually.


We have a pretty light schedule for the summer and we play a lot of things by ear depending on how the day is going, so I didn't go into the depth of the lesson plans. I only assigned the subject, and that is it. That way we have flexibility to use whichever lesson works for us that day. The lesson plans are very in depth, though, so if you like to have a more specific plan, it is definitely helpful. You can note assignments, web links, notes, etc. You can even copy lessons for later use.
If you do prefer to make note of specific lessons and happen to miss a day, the Helper allows you to reschedule any lessons making it very simple to push lessons to future dates. There is a Grading Helper as well. Because our children are still so young, I don't assign grades at this time, but I know it will be a great feature to have in the future!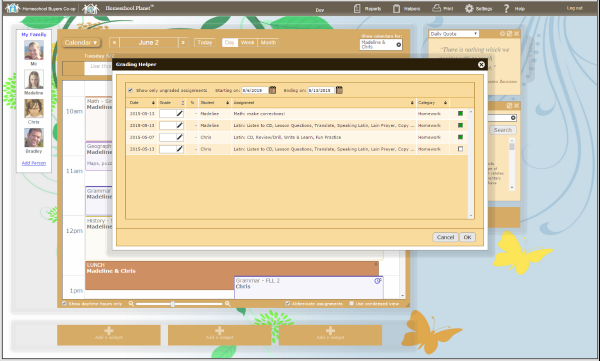 Overall, I have been loving Homeschool Planet. It's easy to use, flexible, full of great features, and just plain helps me organize everything all in one place. Ready to get started? Homeschool Planet offers a free 30 Day Trial (No Credit Card needed)!
Be sure to connect with Homeschool Buyers Co-Op on Facebook, Twitter and Google+.
There really is a lot you can do with Homeschool Planet. I was just happy to get everything organized all in one place easily! Many members of the Schoolhouse Review Crew reviewed Homeschool Planet, and many shared some great ideas! Be sure to check out their reviews by clicking on the link below!