We're currently just over halfway through our school year (we start in January), and we've had a touch and go year with Math. It seems some concepts the kids have really caught on quickly while others have been more challenging. Recently our older two children (ages 8 and 10) have been getting math help through LearnBop. We were given a 12 month subscription to LearnBop for Families to facilitate our review.



LearnBop has been available for schools for some time but had recently introduced LearnBop for Families. It is an online Math Tutor for grades 3-12. On their website it notes "it doesn't just test a child's ability to do math, it teaches them to solve problems as an expert math teacher would." That's what most of us need, right? Math can be tricky, and having a resource to help children learn to solve math problems is definitely helpful!
LearnBop for Families is accessed solely online. It can be accessed anywhere you can connect to the internet. Each child is provided with their own login information and account. No matter where they are they can access their information, and it is always saved. It provides a learning path that is ideal for each child. Parents can further alter this learning path if they feel it is needed. It helps identify and close learning gaps.
LearnBop Online Math Review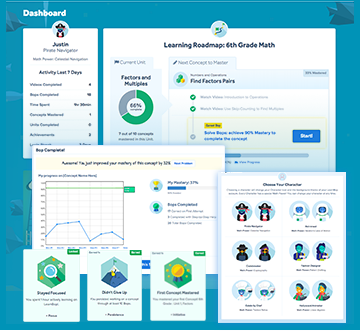 Our kids have been using LearnBop 4-5 times per week to supplement our Math curriculum to fill in those gaps. The first log in often determines their attitude for an online program. LearnBop allowed them to choose a fun avatar. Brayden chose a Pirate Navigator and Aurora chose a Fashion Designer. They were definitely options they haven't had before, so they really liked that! Both of them have been following the recommended 3rd Grade Roadmap. I didn't explore additional options as this Roadmap was just what they were needing!
It notes the steps that need to be taken to complete each Unit Concept, but I didn't find the flow to be intuitive. The kids would log on, and wouldn't be too sure exactly what they should do that day. I wasn't quite sure either. As with anything, though, I encourage learning at their pace, so we fell into a routine that worked for them.
Units are broken down into videos. There are required videos as well as additional optional videos. Unfortunately, our older son likes to do things in exact order. He was moving through the first concept very slowly as he continued to watch multiple videos and not starting any bops. Once I was able to convey they are optional, he was able to move on. In order to complete the Unit, they must meet 90% mastery on their bops.


Additionally, I have my own login as a parent where I can monitor each of their progress. I can see what they've completed, what their next step is, what they need to reach mastery for that Unit, their achievements and more. I have found using my dashboard regularly also helped me get a feel for the flow and help guide them to their progression.
Overall, I think LearnBop is a nice online math program. Although it wasn't intuitive for us at first, we were able to fall into a routine that worked for us. I appreciate that it's not just asking them to answer math problems but to really learn to solve them. I think that is exactly what they've been missing! I do like that there are additional videos for each unit as needed because they do come in handy with the concepts that are more challenging!
Connect with LearnBop
Website | Facebook | Twitter
Many members of the Schoolhouse Review Crew had the opportunity to review LearnBop for Families with children of various ages. See what they thought by clicking on the banner below!