We had a chance to review LearningPalette.com from Learning Wrap ups. LearningPalette.com offers both Math and Reading for grades K-5. We have been using it with our two oldest children who are ages 6 and 8 but both at a 2nd grade Math level and late Kindergarten to early 1st Grade Level.
Because our kids are at different levels, I appreciate that LearningPalette.com offers access to all grade levels so I could choose the right levels for them. The levels are not listed by grade but rather by generic levels: Basic, Level 1, Level 2, etc. Basic seems to be equivalent to Kindergarten, Level 1 to First Grade and so on.
The level breakdown is actually nice for those that don't necessarily follow specific grades but rather just base learning on education level and skills. If you do follow grade level, it's nice to know the equivalent. I determined Level 2 was the appropriate level for them for Math and the end of Basic for Reading. We used it 4-5 times per week.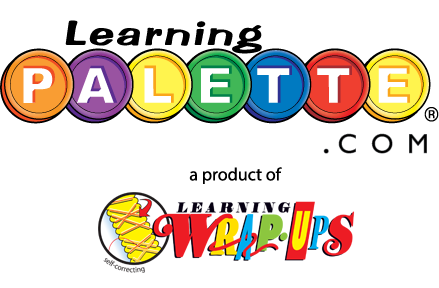 LearningPalette.com offers a unique approach to learning. Each question is presented as a card on a palette. It shows a variety of problems/questions on the inside of the card and the solutions around the outside of the card. There are multiple pieces that you then match up to the answer. So for example if the problem is 2+2 and it has a solid red circle, you pull the solid red circle from the area on the left and place it by the answer 4. Some of the cards are divided into sections so they don't have to choose from every single answer but rather the answers provided in that section.
The Math offers Basic – Level 5 and Reading offers Basic – Level 3. Each Level offers 5-6 specific topics. Once you choose the specific subject, there are around 12 cards for that subject. We have followed each Level, subject, and cards in order, and the problems do seem to build in difficulty.
There is also an area where I, as the parent, can log in and see our kids' progress. I can see their average score per card, log-ins, sessions per day and total completed cards. Because I need to sit with them, I know their progress, but it is nice to have it all in one place.


Because our children are tactile learners, I really thought this would be good for them because although they aren't actually picking up and moving the pieces physically, it is like a manipulative online. Unfortunately, it didn't work out very well for our kids. Although they easily grasped the function of the cards and how to use them and even enjoyed this different approach, solving the problems solely by being on the computer was hard for them.
I had to sit in with them each individually and offer paper to write on and even use physical manipulatives for the problems that use grouping as we don't use grouping to solve double digit problems. Of course, this is a educational preference, though, and may work well for those that use that style to teach Math.
We did also run into a few technical glitches. Sometimes the pieces won't go into their slot correctly, and even on the cards that asked if we were done, and we noted that we were the card still wouldn't show as being completed. It caused some frustration, but I just made notes of the cards we completed just in case it would happen again.
Overall, I thinking LearningPalette.com is a great concept. I like that it's flexible and offers a different way of solving problems that is fun and creative. Unfortunately, it wasn't a good fit for our family since we don't use that style of Math and our kids really need more hands-on Math education right now.
The LearningPalette.com is $25.00 for one student or $59.99 for up to 5 users for a one year subscription. You may also get a 20% discount if you use the coupon code HOMESCHOOL.
Members of the Schoolhouse Review Crew had a chance to review different products from Learning Wrap-Ups including their physical products as well! See what they thought by clicking on the button below.