Our older two children have been working on cursive for quite some time. They both have fine-motor delays and learning and practicing cursive both helps improve their fine-motor skills and offers easier strokes for writing. So we were excited for the opportunity to review the New American Cursive: Penmanship Program Workbook 1 from Memoria Press.



The New American Cursive Workbook is a spiral-bound workbook and works on teaching cursive through hands-on approach of saying the letter, touching the letter, then tracing and writing the letter. I find this approach to be very effective with our children as first tracing a letter with their finger really helps them get the feel for the letter before attempting to trace it.
At the beginning of the Workbook is thorough information on teaching New American Cursive. It explains the benefits, why it's recommended to start early, and a Teaching Guide that is covered on 3 pages. It discusses posture, how to hold the pencil correctly, paper position as well as how to teach the letters. It also stresses the emphasis on comparison and improvement rather than just writing over and over again. It also recommends testing correct letter and formation and connections weekly by having the child write the letters they have learned from memory.
Something I appreciate about Memoria Press is that it is a classical curriculum. Although we are what I say is "eclectic" I often lean more towards the classical approach. It notes the sessions should take no longer than 15 to 20 minutes with the exception of the artwork, which is encouraged at the end of each lesson. It even recommends playing classical music in the background which helps calm and also signals it's time to get into the mode for writing.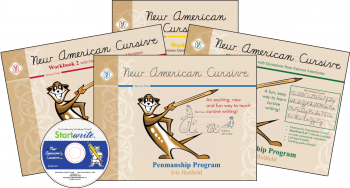 I have been using the New American Cursive Workbook with our daughter who is 7 years old and working at mostly a 2nd Grade Level. Our oldest son (age 8) also learns at the same level as her, and I usually teach them together, but I opted to try this with our daughter first. This Workbook cannot be copied, so if you teach multiple children particularly at the same level an additional workbook would need to be purchased.
I have found this workbook to be a transition for our daughter. Cursive is not new to her, but this style of cursive is. I, personally, find it to be a little easier than "traditional cursive" for some of the letters, but it's a matter of transitioning from what she is used to doing. There is so much about this workbook that she loves, though.
There are a couple of things that we opted not to stress, though, like the pencil position. I know this is stressed in the beginning, but the outer part of her hand is dominate, and her occupational therapist has suggested not changing her pencil grip at this point because she is writing well with the grip to which she is accustomed. I definitely find a difference when improving posture and paper position, though!


She works in her New American Cursive Workbook 4-5 days per week doing one session per day. As it notes, the sessions are fairly short, but she does like to really get involved in her artwork, which is one of her favorite things to do. Plus doing artwork allows her to continue working on her fine-motor skills as well as encouraging her to use her imagination. She has even asked to color her artwork, and I allow her to do so because coloring continues to work her fine-motor skills.


Overall, we are really liking the New American Cursive Workbook. I think the introduction and teaching guide are very thorough, the suggestions for teaching writing really take the guesswork out of it and are done in a way that is a great fit for our daughter, and I love that it encourages additional artwork.
For more information be sure to connect with Memoria Press on Facebook, Twitter, Pinterest, Instagram and Google+.
Members of the Schoolhouse Review Crew reviewed both the New American Cursive Workbook as well as their First Start Reading program. Be sure to click on the button below to read the reviews!