As someone who particularly loves language arts, I know reading is so much more than just written words on a page. It's important to truly understand what you're reading and learn from it. That's what Readers in Residence Volume 1 (Sleuth) from Apologia Educational Ministries is all about! I was excited for the opportunity to check it out and share our Readers in Residence review.



Readers in Residence Volume 1 is recommended for grades 4 and up. The books suggested for the program are written at about a 4th-6th grade level. It's noted that this would also be good for older children who struggle with reading comprehension or who are unfamiliar with the skills taught in the program.
I have been using Readers in Residence with my daughter (age 9 and approximately at a 4th Grade level). I found at her age/approximate grade level Readers in Residence has been challenging but in a good way. She is definitely one to resist when things aren't easy, but with my help, she has kept moving right along and has really started to enjoy it. Additionally, there are areas where they are encouraged to talk with their parents.
Readers in Residence is designed to be flexible so you are able to use it in the way that works best for your child. I am a schedule kind of person. If there is a recommended schedule and it's feasible for my children to follow it, that is generally what we do. It's something I've always appreciated about Apologia's curricula. In this case, the recommended schedule is 4 days per week. It breaks up the Modules into multiple, easier to tackle parts. Our lesson times have varied depending on the activities from 30 minutes to just over an hour. The lessons could be broken down further if needed.
What is Included
The Readers in Residence full set includes a large spiral bound Student Text and Workbook and a paperback Answer Key.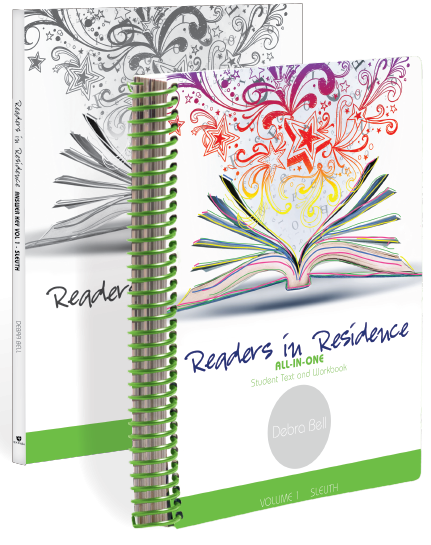 Answer Key
To get started, it's best to start with the Answer Key which is 232 pages. In the Answer Key there is detailed information on how to use both the Answer Key and the Student Text and Workbook. It discusses the schedule, explaining assignments, keeping track of progress and evaluating your child's work. It explains the rubrics and scoring of the rubrics in depth as well as checklists and guidelines for evaluations.
The Answer Key is full of everything you need to know to successfully use Readers in Residence with your child(ren). It also goes into depth about the who, what and why of the program and how to make it work for your child(ren). It definitely helped me dive into it feeling confident!
Student Text and Workbook
The Student Text and Workbook is 562 pages and includes all of the information and activities children need to progress through the program. It includes a Quick Guide, Preface, Welcome and Suggested Daily Schedule in addition to information for Book Clubs as well as the Units and Modules. We, personally, didn't have a Book Club. I have been reading along with her, though, so we can discuss the story with each other.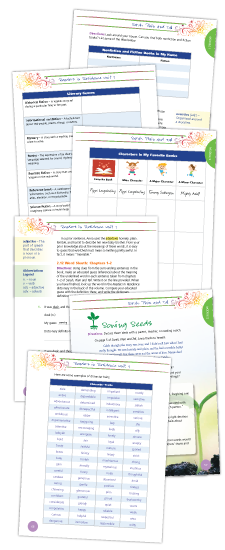 Each Unit covers one book. This may be a specific book or a book of your choice within a specific genre. Each Unit is presented with an Introduction and then breaks down the book by chapters for discussion and activities. I found this particularly helpful especially since Aurora is just getting started with chapter books. It made it much less overwhelming for her.
Each of the suggested books covered in Readers in Residence are familiar books. Even if you or your child haven't read them, it's likely you've heard of them. I've had a great time reading the first book Sarah, Plain and Tall along with Aurora. It's definitely a book I've heard of, but I've actually never read it either!
Readers in Residence Review

Overall, we have been enjoying Readers in Residence Volume 1. As I mentioned, Aurora was a little hesitant at first, but because I am walking along this with her, it's been great for both of us. She love that there are hands-on projects like creating her own book cover. Plus, I can really see the light bulb going off the further she gets into the program. It really has changed the way she thinks about reading – in a good way! I love to see how deep her comprehension is getting as this can be challenging for someone with ADD. I think this is a great program for helping children really dig deeper into comprehension and critical thinking skills.
      
Connect with Apologia Educational Ministries
Website | Facebook | Twitter | Pinterest | Instagram
Other members of the Homeschool Review Crew also shared their Readers in Residence review. See what they thought by clicking on the button below.