Library and Educational Services is a wholesale distributor of educational products for a variety of outlets including homeschoolers. We had a chance to review two of the Go Science DVDs Series 2. They feature Ben Roy and are upbeat and exciting for kids. The ideal age range is ages 4-12, and we watched them together with all three children ages 4, 6, and 8, and they all enjoyed them!
There are a total of seven Go Science Series 2 DVDs. We reviewed the Sound, Gravity, and Space DVD as well as the Life Science and Weather DVD. In both DVDs Ben Roy has an audience of children and presents many different experiments for each topics. For each experiment children from the audience are invited to participate. They discuss safety for the experiment so children understand the importance of being cautious when working with specific elements.


I think what I like most is that the children are also in the specified age range, and the volunteers vary in age. It shows that any children can help. I think that having children see that other children are enjoying science and are involved in the experiments, they feel encouraged to be involved in science as well. There is always something inspiring about seeing that others of similar age doing something it makes it both more appealing and feel like it is something they can do.
Another feature I appreciate about the Go Science DVDs is that they are faith-based, and there is always a reminder that by learning science, we are learning more about our Creator. I think this is a great reminder and as a homeschooler that wants to include faith in our education, this is a great resource.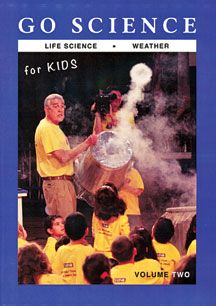 Each DVD is broken up into categories and subcategories. So, for example, the Life Science and Weather DVD is broken up into the two distinct categories – Life Science and Weather. You can choose to view the whole DVD or pick specific topics. Life Science is broken up into multiple experiments and Weather is as well. You can choose the experiments by topic or play them straight through. We have been using 2-3 times per week and would watch 2-3 experiments at a time depending on length and topic. It is a nice supplement for science, though, on occasion we would use it as the main science lesson for the day. We then had a brief discussion about each topic afterwards. I kept it simple since I feel the main point is to have them learn specifically from the lessons.


The DVDs are fun and engaging. The kids really got into and excited about the lessons. They responded well to the way they were presented and understood them well since they felt so excited about them. Plus, each lesson is fairly short, which is great for younger children and those that have short attention spans like ours. Many of the experiments can be done at home as well. We, personally, haven't done any of them since I wanted to get an idea of everything that is in the lessons before trying, but there are definitely quite a few I feel like we could do from materials we already have.
Overall, I'm so glad we had the chance to review the Go Science DVDs, and I'm glad we have this good science resource that our kids enjoy so much. The Go Science Life Science and Weather DVD and Go Science Sound, Gravity, and Space DVD can be purchased for $8.97 each.
For more, connect with Library and Educational Services on Facebook.
100 members of the Schoolhouse Review Crew reviewed the various Go Science DVDs. Check out their reviews by clicking on the banner below!