We had the chance to review the e-Science Program from Supercharged Science. Having explored a few of their free science lessons, we were definitely curious to check out the full e-Science program.
Supercharged Science is an online science curriculum for grades K-12. It offers a thorough curriculum with hands-on experiments. The founder, Aurora Lipper, is a rocket scientist that loves science. Her goal is to share that love of science with children and offer a program that gets children excited about learning science as well as making parents feel comfortable.
If you don't have a science background or science wasn't a strong subject for you, Supercharged Science lessons are done in such a way that you don't have to do the teaching. It's done for you. You can enjoy the experiments with your children and may even learn a few things as well. I know I feel like I have, and I don't even feel like science is a "weak" area for me. There is just so much great information.
Supercharged Science can be approached in two ways – by grade level or by topic. Topics are presented as Units starting with Unit Zero, which is the Overview of e-Science. Prior to Unit Zero there is also an Introduction to e-Science that is very detailed about how to use the program. It really helped me decide where we should start. We then moved to Unit Zero for the Overview. Unit Zero is an amazing starting point that covers the 18 key scientific principles kids need to know before they go to college.
With each Unit you can download the information, which includes materials needed for the experiments, key vocabulary, an introduction to the Unit, lessons, experiments and activities, and additional exercises. The download also notes the appropriate grades and approximate amount of time it will take to complete the Unit. This helped me to gauge if I needed to break it up into segments or could complete the whole Lesson in one sitting.
Because our children are younger, we often broke it up and didn't do more than two experiments in one day. It's definitely not because of lack of interest, but because that is about the point where they would start losing focus.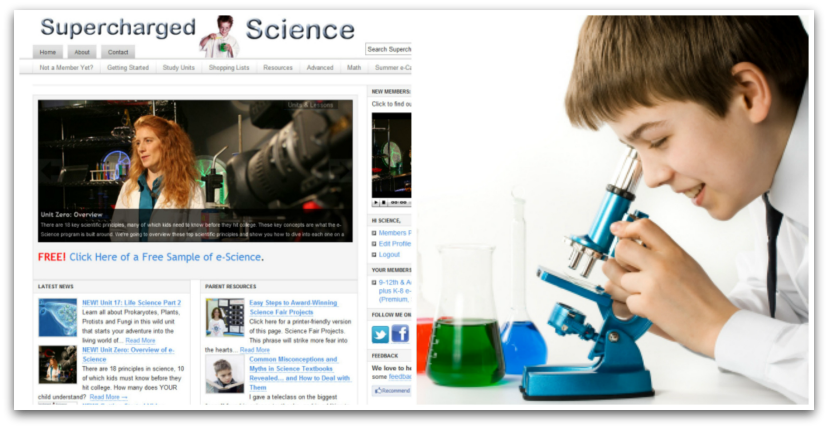 We have been using Supercharged Science 3 or 4 times per week with our oldest two children who are ages 6 and almost 8 and are both learning at the second grade level. It has been our main science curriculum throughout the review.
What I have enjoyed about Supercharged Science is there is an equal amount of learning from Aurora (which happens to be our daughter's name as well, so they LOVED that) and doing hands-on experiments. She makes it so easy! Each video is step-by-step and easy to follow.
Since our kids are younger, I was right in there with them for the experiments, but there were even some experiments where I would get out all the needed materials and just observe. It was rewarding for both of us to see them do it on their own, and I know they felt a real sense of accomplishment. I admit, though, I also appreciated the step-by-step instructions even when I was helping with the experiments as well.
One of my initial concerns was definitely materials. For Unit Zero, all of the materials are easy to obtain, and many of them you probably already have in your home. That was definitely something that was appealing to me.
After finishing Unit Zero we did the unthinkable – jumped to Unit 6: Sound. Except, it's really NOT the unthinkable. The Units aren't dependent on each other, so if there is a specific topic that interests you and is unlocked for you, it's OK to go to that topic. I liked the idea of Sound because, again, the materials were easy to obtain, and I knew it was a topic our kids would enjoy.


I looked at the possibility by using Supercharged Science according to Grade Level instead of Topic, but it really seemed like a majority of the topics can be used for most grade levels. It really left open many more options that way whereas if we had chosen Grade Level we would have been restricted to specific topics.
Overall, we have definitely been enjoying Supercharged Science. It is taught in a way our kids love and understand. I think Aurora's background as a rocket scientist, work with NASA, and all the other amazing things she has done definitely accounts for all the amazing and thorough lessons. What I think I like most, though, is that she's a mom as well, and she really teaches in a way that is appealing to children, and she does so passionately.
Supercharged Science is $37/month for the K-8 Level Plan and $57/month for the K-12 Level Plan. Right now, though, you can purchase either membership for just $1 for the first month.
For More Information:
Connect with Supercharged Science on Facebook, Twitter, Pinterest, YouTube, Google+ and the Supercharged Science Blog
Curious to see how the other Schoolhouse Review Crew members have been using Supercharged Science with their families? You should definitely check it out! Crew members with kids of all ages have been using Supercharged Science. Check out their reviews by clicking on the banner below!