Having a resource that helps teach young children important social tools can be so helpful. That's why I was excited to review resources from Happy Kids Songs. For our review we received Friends & Sharing (Set 1), Happiness & Attitude (Set 5), and Manners & Character (Set 6) as well as the Happy Kids Songs Workbook: Hands-on Activities to Build Character, Social & Emotional Skills.
Happy Kids Songs offers a variety of song sets regarding building character, social and emotional skills that is ideal for ages 3-8, though I think children a little younger or a little older may enjoy it and benefit from it as well. We have been listening to (and singing) the songs all together as a family. Our children are ages 4, 6, and 8 and have been absolutely enjoying the songs.
I am a strong advocate for learning in ways that children enjoy, and I believe children learn a lot through music. The Happy Kids Songs have songs that are really catchy. The kids were catching onto them quickly, and before I knew it, they were singing them without the music and knew every word! I love this because it means they are retaining what they're learning as well!
What I appreciate most about Happy Kids Songs is it such a flexible yet helpful resource. We can listen to the songs while we are working on pages in the workbook or even while we're going about our day. The kids are still listening and learning! The songs are available through download, so they can be played straight through your device or burned to a CD. We listened to them on the laptop.

Friends & Sharing is the set we started with, and our preschooler was singing the first song Sailing on the Seven Cs the entire day. So I knew right away this was going to be great for them!
Friends & Sharing addresses various topics regarding friends. Examples are what it means to be a friend, reaching out to others, sharing with and including others, being happy, and sharing time/saying goodbye. All of the songs have a positive message about friendship, and they are all catchy and fun.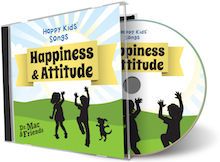 Happiness & Attitude is the set I was most curious to check out. This is an area that can be challenging for our children, and some approaches just haven't worked well for us, so I was definitely excited for a positive approach in a form they love – music.
Happiness & Attitude covers a variety of topics regarding attitude from giving compliments to self-encouragement. Other topics are handling limitations, ways to happiness, and being together and apart. It has really made our children consider not only how their attitude is in regards to others but to themselves as well, which is so important!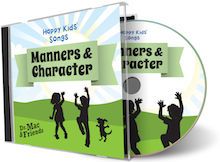 Manners & Character is the set that might be my personal favorite, though the kids seem to like them all equally. I just love what is covered in this set, though. I feel sometimes these topics are easily overlooked yet they're so important. Manners & Characters covers topics like honesty, being considerate of others, learning manners, appreciating differences, and respecting other perspectives.
Having three special needs children, I have gotten questions from other children that don't understand our children's differences. I decided I wanted our children to know and understand differences because everyone is unique. I feel like this is a great resource.
In addition to listening to and singing the songs, we also discuss them. I gauge this on how receptive the kids are at the time. Having children with social/emotional special needs, I always appreciate resources that support positive social and emotional skills.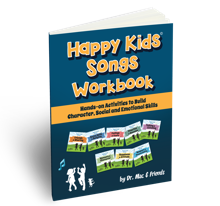 The Happy Kids Song Workbook is a great complimenting resource. It has activities for all of the music sets (125 pages). If you have multiple children like we do, they also allow copies for the family, which is really nice.
The Workbook has a variety of activities from color sheets to word puzzles. Some of the activities were too difficult even for our oldest two children because they are still beginning readers and have challenges with word related activities. All of them can color, though! Plus, beyond just workbook activities, there are also hands-on activities as well! It was a great way to reinforce what we've been learning in the songs!
Overall, we have really been enjoying Happy Kids Songs, and our kids are learning a lot in a way that they love. They sing, dance, and learn important life lessons at the same time! The song sets can be purchased for $4.95 each, and the Workbook can be purchased for $12.56.
Many members of the Schoolhouse Review Crew have also share their Happy Kids Songs Review. Read their reviews by clicking on the button below.