Our family received complementary tickets to Studio Movie Grill during the GoHouston! Travel Campaign hosted by New Creative Writing and Social Media Marketing, home to Money Saving Parent.com. All opinions are my own.


Our last stop on our Houston adventure was Studio Movie Grill CityCentre for Despicable Me 2. Studio Movie Grill is more than just a movie theater. It's a movie and dining experience in one! When we arrived to get our seats for the movie we were told they only had the front two rows left. I wasn't surprised because it is a very popular movie and one we had definitely been looking forward to seeing! That was fine with us!
You are then given seat assignments, which are shown on the computer screen when you get your tickets. I had never experienced this before, but I realized the major advantage when we walked into the theater because we didn't have to find 5 open seats in a row or ask anybody to scoot down so we could all sit together. We had our 5 seats in a row with no fuss! The seats are also large and comfortable, and there was plenty of space for my purse under the table in front of me.
When entering you are given a full menu. You can order a meal or simply popcorn and drinks. Since we had just come from brunch at Straits we simply ordered popcorn and drinks. The best part was we didn't have to wait in line! That is always my least favorite part as well as getting the napkins, adding salt, etc. while the kids still ask about all the other goodies they saw but didn't get. At Studio Movie Grill we got to avoid all of that. When you are ready for food or drinks you simply push the red button, tell them what you would like, and they bring it all to you! If you want something like salt or extra butter you just let your server know. Our server also brought us plenty of napkins. I have heard great things about their pizzas and desserts as well!
They also came and cleaned up for us as well! So, we just got to sit back and enjoy the movie we had been so excited to see!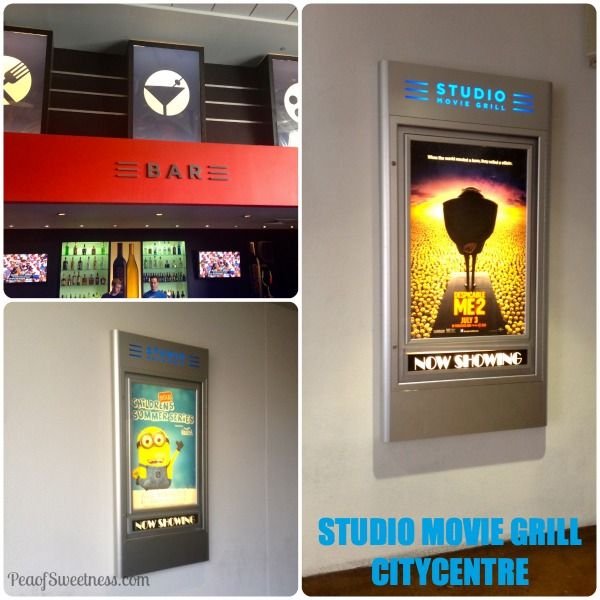 Studio Movie Grill offers a military discount, and many others were using a Groupon purchase as well. Their movie prices are already very reasonable, but who doesn't like to save a little extra? If you have special needs children like we do you might be happy to know Studio Movie Grill offers monthly private Special Needs Screenings of popular family-friendly movies. Their Special Needs Screening for July was (no surprise!) Despicable Me 2 on July 13th and is available at most Studio Movie Grill Locations. Special Needs Children and their siblings are free. Additional tickets are only $6.
Whether you are looking for something fun for the family or a dinner and a movie date Studio Movie Grill has a lot to offer! You can purchase tickets online.