I am a huge fan of educational apps to supplement our homeschool curriculum and I was so excited to have the chance to review the Talking Shapes iPad App from Talking Fingers, Inc.
The Talking Shapes iPad App is recommended for Preschool to Kindergarten age children and helps teach them that letters are "talking shapes" that stand for speech sounds. Each letter is represented by a picture with that sound to help kids easily associate the sound with the letter.

I personally think this is such a great idea because so often letters are associated with pictures that don't represent the letter itself. For example, an apple by itself does not look like the letter "a" and although it may help kids remember the sound, I think the picture with the letter within the picture itself really demonstrates a visual that stands out in their memory.
The App tells a story of two sisters and how they invented the alphabet. It is a set of seven stories total that introduce all the speech sounds (and the letters that produce those sounds) in the English Language. With each story new speech sounds are introduced to build upon what they have learned. I like that it is a progression so they can really master the first sounds before moving on.


The app also offers various activities from drawing the letters, creating 3-letter words, and a reading game to read the 3-letter words they have learned. Even though it is recommended for Preschool up to Kindergarten age, I had a good feeling we would be able to use it with our older two children (ages 6 and 7) as well – particularly since they are delayed readers. Of course, our preschooler (age 3) used it as well.
The activities were too complex for our preschooler to do on his own, so I would go through it with him. Because of his motor delays and how particular the app is for the drawing letters activity, that specific activity was frustrating for him. He was trying really hard, but they have to be drawn exactly on the letters without any room for error. If spots were missed they could then be colored in, but unfortunately part of his special needs is what can be viewed as perfectionism, so he knew he was "wrong," and often didn't want to finish.
So our preschooler got the most enjoyment out of the app by assisting his older siblings. He would answer the questions for the games, but they would do the work. I thought this was a great way to help them learn together and was glad they were working together so well! Our older two children really did get a lot out of the app as I suspected as well. They both have struggles with remembering specific letters as well as writing some backwards. They are also both very visual, so the Talking Shapes app really did help them to visualize letters in a new way. I would say this app could definitely be used for children in first grade as well and even second grade with delayed readers like ours.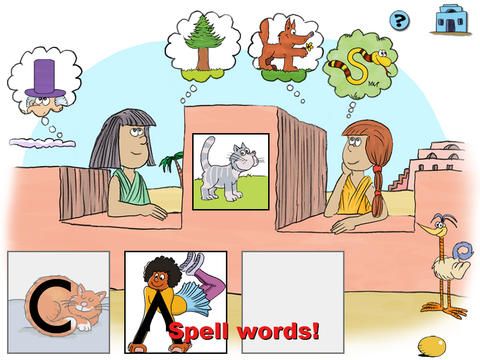 Overall, I'm sightly disappointed it didn't work as well for our preschooler as I had hoped, but I am glad we found a great solution with the kids working together. I think it really is a great way to teach letter sounds in a way that is very memorable, and I think it has been very helpful for our older delayed readers. They all really enjoy the stories as well! The Talking Shapes iPad App is compatible with iPads iOS 6.0 or newer and can be purchased on the App Store for $5.99.
Thirty members of the Schoolhouse Review Crew have been using the Talking Shapes app with their children of various ages as well. See what they thought by clicking on the banner below!