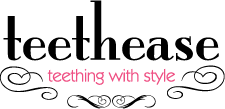 Teethease™ was designed to provide a product that is fun but useful for mothers, fathers and care-givers alike. Although there are many different choices when it comes time to teething products, we found it difficult to find any that offered convenience and style, while still focusing on safety. That became the start of our journey to provide a convenient alternative to what was being offered. Teethease™is a fun, functional and fashionable piece of jewelry that is an accessible alternative to digging through a purse or diaper bag. Teethease is made of FDA approved medical grade silicone, free of BPA, PVC, latex, heavy metals, phthalates and meets the highest international safety standards (EN-71).
Something parents may not know: for those with special needs children like ours on the Autism Spectrum or with Sensory Processing Disorder teething necklaces may be recommended for sensory stimulation for those that like to "mouth" objects or chew (all 3 of our kids do this), though with an older child you always want to supervise anything they're chewing. Our 2 year old has Sensory Processing Disorder, still breastfeeds (and has to keep his hands busy throughout), AND he's teething, so this is a perfect solution! Please read Mom to Bed by 8's review below and enter to win one for yourself! 🙂
I have become a big fan of teething jewelry over the last few years. After having numerous necklaces damaged and even broken from my son's obsessive pulling and biting as his teeth made their way in, I finally gave in and invested in some great looking pieces like those you will find at Teethease.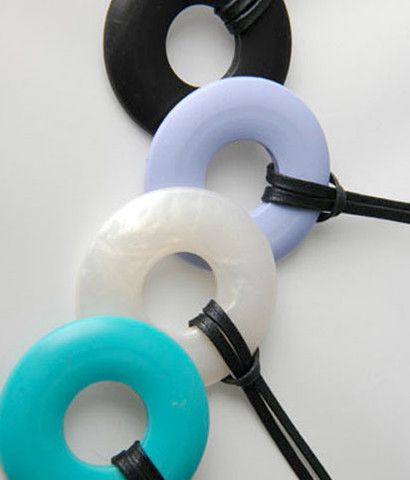 My favorite product from their collection is the Original Teethease Pendant Necklace. The round disc style teether is not only completely functional but also beautiful. The soft silicone seems to be very comforting on my little ones gums and the glossy look with patterned accents make each one a unique one of a kind piece. I also appreciate the simple black necklace with easy on and off clasp. It is a very classy piece that can be mixed with nice dresses to jeans and a tee.
These work well not only for moms of teething babies/toddlers but also for breastfeeding little ones as well. The bright-colored necklace will keep your baby's hands busy during feeding. Less pinching and scratching makes for a much happier mommy.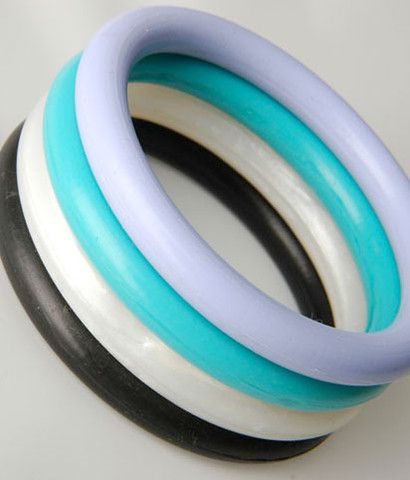 The Original Teethease Teething Bangles was my first try at a product of this type. Just like the pendant, these are made from soft, flexible silicone and completely safe for chewing. This piece is my toddlers favorite since he is getting back teeth. You can catch E gnawing on our pearl bangle at various times of the day. When he is done, I toss it in with the dishes, wash well and dry. This piece is great as he can hold it on his own without my assistance where as the pendant requires an adult to wear/supervise at all times.
Teethease products are available online and in stores at retailers across the US and Canada. They are reasonably prices at $16.95 per pendant necklace and $9.95 per bangle. They also offer a very cool looking Rock•ease necklace and their Pendant Necklace 2.0 in a variety of colors.
One lucky winner will receive an Original Teethease Pendant Necklace and matching Bangle!
Giveaway ends July 12th at 11:59pm, open to US and Canadian residents, ages 18+. To enter please use the Rafflecopter form below. Good luck!
*Disclosure: I received no compensation for this publication. My opinions are my own and may differ from those of your own. Pea of Sweetness is not responsible for sponsor prize shipment.*