We always knew we wanted to homeschool, but a question we often get asked is if we plan to homeschool "for the long haul." Honestly, I never really thought about it until people started asking. I guess I just kind of assumed that it was a given. I've been seeing it more and more now, though, that many people stop homeschooling their children when they reach high school. We are still quite a few years away from high school, but I was definitely curious about this. Why do so many choose to stop?
The Conversation from Classical Conversations dares to ask the question. The author, Leigh A. Bortins, asks the question boldly and shares her experience and encourages families to continue homeschooling through high school and enjoy the experience. It is a paperback book with over 250 pages including Acknowledgements, Preface and Foreward.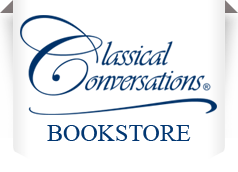 I was definitely intrigued to read The Conversation not only because I wanted a better idea of what to expect when homeschooling through high school but also because I have always been more curious about a Classical Education as well. The Conversation is the third book in the trilogy about the classical education, and I really do feel like I have a better understanding of what a classical education is all about.
Additionally, I have a better understanding of the stages of classical education. The Conversation particularly addresses the rhetoric stage of learning. She explains how in this stage there are more in depth conversations, and while reading more about it, I could truly understand how fulfilling educating children in the rhetoric stage can be. I even found the Introduction to be encouraging as I could see how their sons were really involved in projects and real-life opportunities – one of the most exciting reasons we chose homeschooling!


The Conversation starts right off the bat with encouragement. It talks about homeschooling and the different styles of homeschooling and how, one of the biggest reasons parents stop homeschooling when their children are older is simply because of fear. It encourages parents to grow in their confidence. I know I even worry I'm not doing a "good enough job," and my children are still young. Will I be able to do it when they're older? The answer is a resounding "yes," but I can definitely understand why many feel that way!
The Conversation is divided into three parts. Part One is encouragement for the parents as well as defining rhetoric. Part Two goes more in depth to the Rhetorical Arts. It breaks down educational subjects and what that looks like in the rhetoric stage. Part Three is the Appendices which includes Conversation Games, Common Rhetorical Devices, Resources and responses from parents about the joys, experiences and concerns of homeschooling through high school.
Overall, I found The Conversation to be both informational and encouraging. It really gave me an indepth look not only into what homeschooling high school looks like but how rewarding it can be as well. I do find there was an advantage to reading it now while our kids our young because I feel like now I can go into the high school years with full confidence and understanding.
Be sure to connect with Classical Conversations on Facebook, Twitter, Pinterest, Google+ and YouTube.
Would you like to know what other members of the Schoolhouse Review Crew thought of The Conversation? Check out their reviews by clicking on the banner below!