We had a chance to review the KRAKEN A.M.S. CASE FOR APPLE IPAD 2/3/4 from Trident Case. As a homeschooling family, we often use our various electronic devices during our homeschool day. In fact, we have two second generation iPads. Although I like to say one of them is "mine," the truth is the kids still use it a lot as well.
Because of this, I decided to use the Kraken A.M.S. case for my iPad 2. It is more common for our preschooler to use my iPad while one of the older two children use "their" iPad. Because he is young, it is often vulnerable to drops and leaving it somewhere it shouldn't be – like the couch for our 125lb dog to lay on! Because my iPad has more than just homeschool apps and games, I definitely want to be sure nothing happens to it! Games and apps can be downloaded again, but I have a few things on my iPad that can't like documents and my homeschool tracking app. It can be downloaded again, but I would have to start over with the data and re-type everything from the backup!


Although Trident Case offers a wide variety of cases including those that are recommended for children, the Kraken A.M.S. is good for any age. In fact, they are the strongest and most durable cases Trident Case makes, which makes it very versatile! Plus, they offer A.M.S. attachments for the Kraken A.M.S. that are available for purchase separately. So if you need something like a stand, this is an attachment you can get that is designed to work specifically for this case.
The Kraken A.M.S. for Ipad 2/3/4 is offered in a variety of colors. I personally chose red because it's my favorite color. A majority of the case, which is the outer shell, is black and the inner layer, which is the shock absorbing silicone, is red. It also has a built-in screen protector, which is a big bonus. Am I the only one who has trouble putting on those film screen covers? What a relief that I don't have to worry about that with the Kraken A.M.S. case!
The Kraken A.M.S. case has all the appropriate openings for things like the camera (both front and back) and part of the silicone offers covers you can open for the headphone jack, the silence switch, and the charging port. The silicone also covers and protects all the buttons while allowing them to be fully functional. No worries about dirt or anything getting caked in there! Yes, that has happened to one of ours before, and it's awful to get out!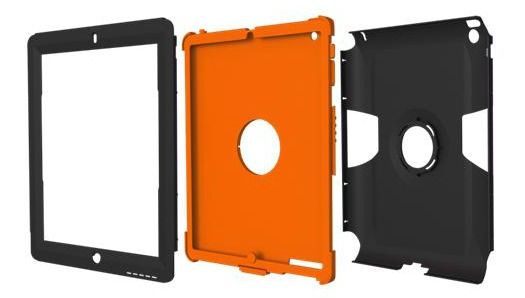 A couple of other great features I love is that it's made in the USA and meets Military Standard MIL-STD-810F for drop, vibration, dust, sand and rain. Being the spouse of a disabled Veteran, I know the Military Standard is no joke, and the tests they do are tough! Plus, as an eco-friendly consumer, I appreciate that it's made of eco-friendly materials that are biodegradable, compostable and recyclable. I don't feel like I'll need to take advantage of any of those features for a long time, but I do appreciate that they considered their eco footprint when they designed their cases.
Overall, I am really impressed with the Trident Kraken A.M.S. case for our iPad 2. It is strong and durable, has many great features, and protects every part of the case. Although I still try to teach the kids good habits for caring for electronics properly, I feel reassured that if it does get dropped or left where the dog can step on or lay on it, it will be protected from breaking and from the dirt as well!
The Kraken A.M.S. case for iPad 2/3/4 can be purchased for $69.95.
For More Information:
Connect with Trident Cases on Facebook, Twitter, Pinterest, Google+ and Instagram.
Check out the other reviews from the Schoolhouse Review Crew!
The Schoolhouse Review Crew members had the chance to review a couple of cases for a variety of different devices. Be sure to check out their reviews by clicking on the button below!