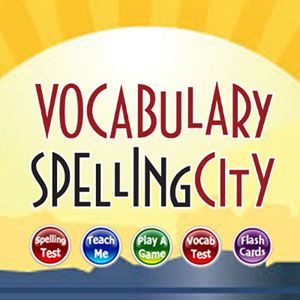 We had a chance to review VocabularySpellingCity. We received one year of the VocabularySpellingCity Premium Membership for our review. VocabularlySpellingCity is an online learning program that offers vocabulary, spelling, and language arts for grades K-12. They also offer the option to print handwriting worksheets as well!
VocabularySpellingCity allows easy access to multiple word lists. There are preset word lists that vary from Dolch-Sight Words (the lists we use most often) to words based on specific subjects like Science and Math. It is set up in a way that it is easy to create assignments for your children and get a detailed view of their activities and test results. Each child is assigned their own user name and password to log into their own account. In their account they can see the assignments you have set and the word lists you have chosen.
In their account they can do their own work by clicking on any available list, but my favorite feature is definitely the fact that I can assign specific activities. Since both of our children (ages 7 and 5) are at the 1st Grade reading level we do a lot of work together, but computer time is more independent work time while I usually work with the other one (or our preschooler) one on one on subjects in which they may need extra attention. Because I could choose and assign the activities all I would have to do is log them into their accounts and ask them to complete the activities on their list for that day! It really simplified the experience because I didn't have to go back to the computer each time they would finish an activity to tell them which activity to do next.


Another advantage of the Assignments feature was the ability to "Save as Preset" meaning if I was assigning the same activities frequently I could save that list as a preset instead of choosing the same set of activities over and over again. I did find that some of the activities were challenging due to our children's reading level, so I did frequently rely on the same set of activities. The Preset feature made it so easy to schedule out assignments! We stick to one word list until the kids really get it down, and then we move to another list. The first time we changed lists I was excited to discover the "Save as Preset" didn't just mean save it as the current list. I can choose a new word list, click on the Preset, and it will assign all of those activities for the list I choose!
Because of our kids' reading level we really couldn't use most of the vocabulary portions of the program. I tried to jump in to the program without really thinking it through at first, which resulted in some frustration. I realized that although the words were their "grade level" they couldn't read the definitions! I was actually a little surprised that it didn't read the definitions given their grade level. Some definitions had some big words! So if we wanted to work on any vocabulary, I would have to read the definitions for them.
Because of the challenge with vocabulary, we mostly used VocabularySpellingCity for just the spelling activities 4-5 times per week. Although, one activity we use for almost every lesson are the Flash Cards, which are part of the Vocabulary lessons since they do include the word definitions as well. We use VocabularySpellingCity in addition to our Reading curriculum. The focus on spelling offered something a little different for us. It took a couple of weeks to get through the first list because I really wanted to make sure they knew the words and felt comfortable moving on. Both of them really do well with repetition, so it was definitely an advantage to start out this way. It also helped me get a feel for what activities were most helpful so I could make the most effective Preset List!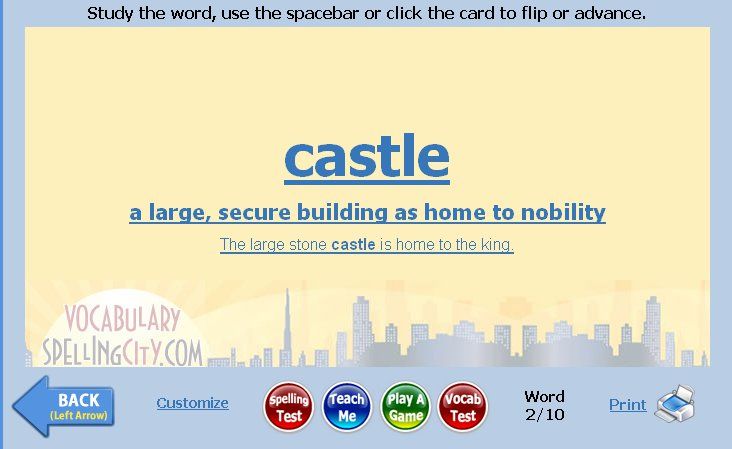 VocabularySpellingCity also offers a free app for Apple devices, Android, and Kindle. We used this as well particularly when my husband was finishing his clearing paperwork, and all we had was one computer. This allowed me to have one work on the computer while the other worked on the iPad. I always like apps, too, because of the flexibility. We can take it with us, and they can still get their assignments done! With Premium Membership, they can also see their list of assignments to complete. Once again, this is nice because it allows them to work independently. The only disadvantage with the app is that it keeps locking/freezing on our iPads. We have 2nd generation iPads, so this may be the problem, but we have to completely quit the program and restart it, and it does happen rather frequently.
Overall, I think VocabularySpellingCity has a lot to offer. I think it will be more beneficial for our family once the kids are older and can use the additional features like the Vocabulary and even the Language Arts as well. I think it's great how they have created a way to create assignments and offer detailed reports. The family Premium Membership is $29.99 for one year for up to 5 students. I think it's wonderful that they offer one low rate for the whole family!
Crew members with children of many ages shared their experiences with VocabularySpellingCity as well! Be sure to check them out by clicking on the banner below!