I received The Homegrown Preschooler: Teaching Your Kids in the Places They Live from Gryphon House for my review. The Homegrown Preschooler is full of great information and resources for parents of preschoolers. The authors are not only homeschooling moms but between both of them they have more than 20 years of early childhood education and homeschooling experience. I love, though, that their backgrounds are different, and they share their journeys at the very beginning of the book.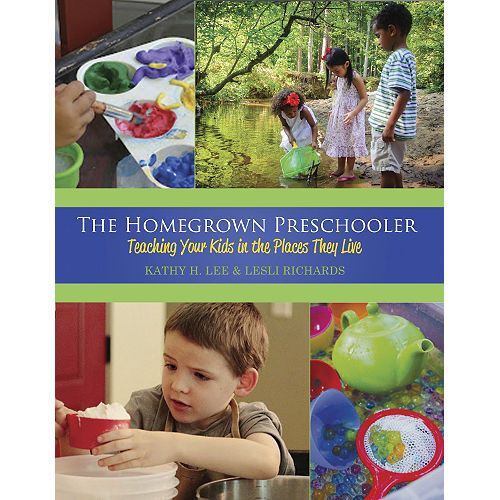 The HomeGrown Preschooler has an Introduction followed by 9 Chapters that cover the topics of homeschooling, preschoolers' development, how preschoolers learn, how to best prepare your home and make the most of your surroundings for the best homegrown preschool experience, and organizing both your time and your home. It also addresses different seasons in your life and special circumstances. As a mom of special needs children I particularly loved Chapter 9 about the Special Circumstances. Because our preschooler isn't our first special needs child, but rather our third special needs child, I found myself absolutely agreeing with everything the chapter said. I love "Don't Be Afraid of the Label." So often Early Intervention isn't sought because parents are afraid of receiving a diagnosis, but early intervention is key!
Each Chapter is filled with helpful notes from the authors, recipes, and beautiful pictures!


Following the 9 Chapters The Homegrown Preschooler has an extensive activity section that includes: Home Life, Science, Gross Motor, Fine Motor, Math, Language and Emergent Literacy, Art, and Social-Emotional. I LOVE that the activities include self-help skills, health, nutrition, safety, etc. Obviously these are things we should be doing anyway, but I admit that sometimes I forget they can be taught in a fun way that would be more enjoyable!
The back of the book includes an Activity Checklist, Getting Started Checklist, Resources page, and instructions for the DIY projects like the Easel, Light Table, and Sensory/Sand Table.
Although The Homegrown Preschooler is written more for the parents of a new preschooler it was definitely written by moms that had older children, and of course, our older two children always joined in on the activities we did as well. After initially reading the main part of the book I started implementing the suggested schedule of one home life, language and emergent literacy, and social-emotional skill daily. We vary the other activities of science, gross motor, fine motor, math, music, art and sensory a few times a week. Particularly with having older children as well it helps me to plan ahead and choose an activity and write it into the schedule. We then implement these activities during circle time! Sometimes our preschooler continues them while our older two move on to their other subjects for the day! I have found that even though they are preschool activities all three kids have really benefit from doing the activities!
We don't have a sensory/sand table, light table, or easel, and with the DIY instructions they really are something we could make! Because we expect to be moving in a couple of months, though, we decided the timing for these projects wouldn't be ideal. After we move and get settled, though, they are definitely on our list!
I want to share one of our favorite activities. I'm not even sure why they love it so much, but it is the Cloud Dough. They ask for it regularly, and since we are moving to a gluten free diet it is a perfect way to make use of all the other flour we had left! Yes, the cat eats it. haha It's OK, he's not on a gluten-free diet. 😉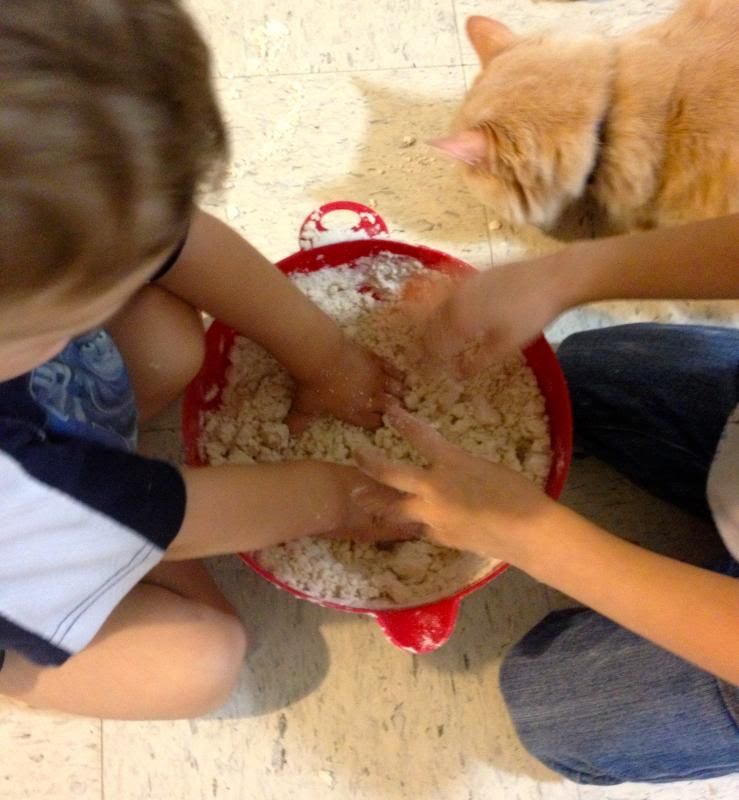 I feel The Homegrown Preschooler has really enhanced our homeschool experience. It offers more insight and activities that are just fit our family so well, and it provides such a wealth of information that I feel would make it a good fit for any family with a preschooler! The Homegrown Preschooler can be purchased for $29.95.
Gryphon House offer a variety resources for early childhood education, and the Schoolhouse Review Crew had a chance to not only review The Homegrown Preschooler but one of their art programs as well! Read the reviews by clicking on the banner below!