I am a big fan of meal replacement bars because I am so busy. They can be a quick go-to when I'm in pinch. The problem is, though, a lot of them contain artificial ingredients, too many calories, or they just don't taste good! I was definitely excited to try the 100% All Natural Meal Replacement Bars from Pure Fitness Nutrition. They use 25 grams of whey isolate protein, clean raw oats, agave, and honey. Just that alone was enough to make me want to try them! Then they add other natural ingredients to make some tasty flavors. For my review I got to try the Peanut Butter & Jelly Crunch, Banana Chocolate Nut, and Dark Chocolate Cranberry.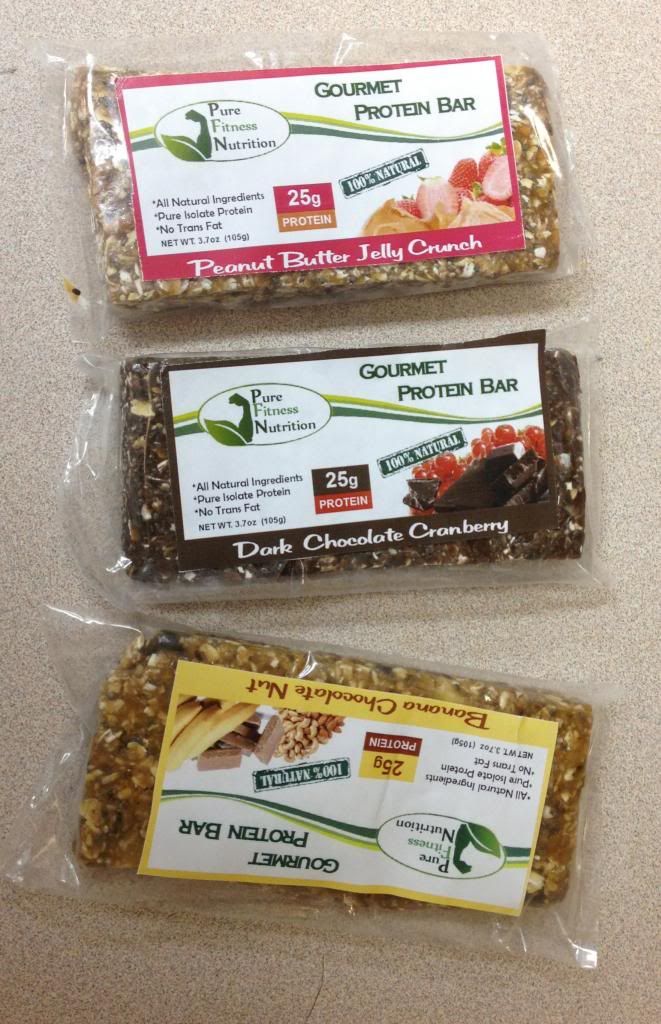 When I first received them the first thing I noticed was the size! I knew with the size and the ingredients these definitely would pack a hearty punch! I tried the Peanut Butter & Jelly Crunch first because seriously, how could I resist? It tasted as good as it sounds! And my assumption was right – it was very filling. It is made with all natural peanut butter, all natural strawberry, a little sea salt, and a bit of natural whole wheat pretzels for the "crunch." It is amazing! It was everything I look for in a meal replacement bar – healthy ingredients, tastes good, and is filling. I really like the texture as well. There was no weird coating like some bars have. It is just a good, full texture. You can tell it really is made by hand.
I was afraid I wouldn't like the Dark Chocolate Cranberry, to be honest, but I was pleasantly surprised! With dark cocoa and cranberries it also has some anti-oxidant power! They don't add any extra sugar to the dehydrated cranberries, either, which is definitely important to me! Again, the texture was amazing, and the taste was actually a little sweet despite what I pictured in my mind! I really enjoyed the Dark Chocolate Cranberry as well!
I got to try about half of the Banana Chocolate Nut before the kids stole it from me, but with ingredients like this, I felt comfortable letting them split the other half! They loved it! Again, it has a great texture, and the chunks of organic chocolate really add to it! They also use chia seeds, which have awesome health benefits!
Overall, I enjoyed all three flavors and am really excited I found meal replacement bars that not only "fit" my standards but actually surpass them!
Disclosure: I received one or more of the products mentioned above for free using Tomoson.com. Regardless, I only recommend products or services I use personally and believe will be good for my readers. I am not required to write a positive review. My opinions are my own and may be different than yours.