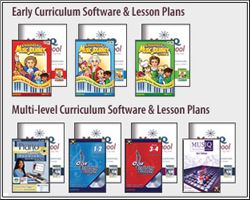 Adventus offers an array of music and piano learning solutions. We had the chance to review their MusIQ HomeSchool program. MusIQ Homeschool is a seven-year curriculum that includes more than 20 levels from beginners to advanced. They offer an Early Level Curriculum for ages 4-10 and a multi-level curriculum for ages 10+. We used the program with our 5 and 6 year old, so we started at the beginning – Children's Music Journey Volume 1. Prior to this, our children had only played on our keyboard here and there but definitely had no formal lessons. I can only play "a little" piano because I am mostly "self taught." So another thing I discovered is I could really learn from this program as well!
In order to use MusIQ Homeschool you do need to have a MIDI keyboard. We have an older one that was sadly not getting much use, so I was very excited to review this program and put our keyboard to GOOD use! I'm happy to say it does work with older MIDI keyboards. I just had to get a MIDI to USB adapter to make it compatible with my iMac. We haven't hooked up the kids' PC because we're in the middle of a transition, so I loaded the Early Level Curriculum on my iMac. I did later discover that due to some updates by Apple (10.8 or higher) the "regular" downloads wouldn't work due to Apple leaving out the ability for screen resizing, so I had to go to their website to find a solution. It was extremely easy to find in their FAQ section, so I didn't have to do any hunting for it at all! It explained the issue and had new downloads readily available! I love that they addressed this concern in an easily accessible area! After downloading these "small" versions everything worked perfectly!
Adventus MusIQ Homeschool is definitely more than just a program that you turn on and then let your kids do their lessons. They also have very well laid out lesson plans that include more than just the program on the computer. There are the lessons on the computer as well as practice, games (that encourage practice), and improvisation (our kids particularly loved making "their own" music). They can then go into the library and listen to new songs or listen to the songs they created! Then aside from the software there are things to do OFF of the computer such as: suggested learning games related to the lessons, coloring sheets, music history, theory, rhythm, and more! It is so much more than just a "piano program." It encompasses music as a whole as well as history and theory. I was pleasantly surprised by all that it covers!
I have also been pleasantly surprised by how well Adventus MusIQ Homeschool has been received by our 5 and 6 year old. Our kids really like music, but I was concerned how well the history and theory would be received, but because it ties in so well with the program they really enjoyed all of it! They loved the various worksheets – some were just to color and others highlighted what they learned such as beat groups and high and low notes. I loved these additional activities because I feel a lot of time learning on the computer isn't very interactive, but I feel like this really took it to a different level by including outside learning opportunities as a regular part of the curriculum!
For the first week, we completed the first two lessons. Once we got to lesson 3, though, we did have to slow down and have more practice before moving on to lesson 4 and so on. So at that point we started doing one lesson per week with practice on the other days of the week. Since Tuesdays are our least busy day that is now the day of the week we start the new lesson, and we practice every week day. It's not like what I pictured: "Mom, we have to practice AGAIN?!" Instead, they ask when they get to do their practice! They absolutely love the practice games and their time in the improvisation room. I like that they actually enjoy the lessons and practice as well! The only concern I had was when I discovered our keyboard has "extra" keys at the right compared to the standard keyboard that is pictured, so when we learned middle C it was a little confusing! I did help by marking it at first until they caught on that our keyboard looks different than the one on the screen. So it was easy to resolve that concern with a little extra help and visual practice! Overall, I would say I had very high expectations for Adventus MusIQ Homeschool, and it definitely delivered! Check out their 7 Day Free Trial!
Children's Music Journey Volumes 1-3 with Lesson Plans can be bought separately and are available for $89.95 each. You can also purchase the Early Curriculum bundle which includes all 3 volumes and lesson plans PLUS an M-Audio KeyRig 49 MIDI piano keyboard for $309.95. Or you can purchase both the Early Curriculum and the Multi-Level Curriculum for $489.95, which includes the keyboard as well. There is also a subscription option for $10.95 per month which includes access to all the MusIQ HomeSchool software for both the Early and Multi-Level Curricula. It does not include a MIDI keyboard or the Lesson Plans, but both are available separately. Please note the Multi-Level Curriculum is NOT available for Mac, which is why I encourage you to check out more of the awesome reviews from the Review Crew by clicking on the banner below because it will have more reviews of the Early Level Curriculum as well as reviews for the Multi-Level Curriculum!