Each of our family members received a complementary CityPASS during the GoHouston! Travel Campaign hosted by New Creative Writing and Social Media Marketing, home to Money Saving Parent.com. All opinions are my own.
After visiting Space Center Houston we headed to Kemah Boardwalk and used our CityPASS to get full day admission to all amusement rides!


When my husband and I were dating we used to visit Kemah Boardwalk frequently. We have so many great memories, so it was extra special to have been able to share it with the kids! They even offer pictures now when you first walk in, which can be purchased immediately or at your convenience. Our photographer was awesome! He took a few pictures including just the kids and just my husband and me. Who doesn't love a nice picture to remember a fun experience?
After the pictures, we simply took our CityPASS booklets to the ticket booth and got wristbands for everybody. The wrist bands are color coded by height. It makes everything so simple! No tickets, and height is noted by color of wristband. Now we were ready to explore and ride whatever we pleased! CityPASS is valid on all amusement rides but does not include Stingray and Boardwalk Beast.
One of the first things we did after getting our wrist bands was head to the Cool Zone to put them on as well as put on our sun screen. It was hot, but not as unbearingly hot and humid as it can get in East Texas, but a couple of cold drinks and the shade and mist of the Cool Zone were a refreshing way to get started after our walk down from the parking garage.
Our oldest son braved one ride by himself for the first time! Our daughter was going to go on it, too, but she got too nervous and changed her mind. Our youngest son thought he wanted to go on it, but, of course, he's too small. When Aurora changed her mind, though, he stopped fussing over not getting to ride.
The next ride we all got to ride! It is called the Balloon Wheel, and it is like a little Ferris wheel with hot air balloons. The boys went in one ballon, and the girls went in another. Not only was it fun to wave every time we could see each other, but we also had a nice view of the water!
We also walked along the boardwalk enjoying the water, watching fish jump, and pointing out boats. There is always a nice cool breeze by the water as well, so it's another alternative to cool off a little while enjoying the beautiful view.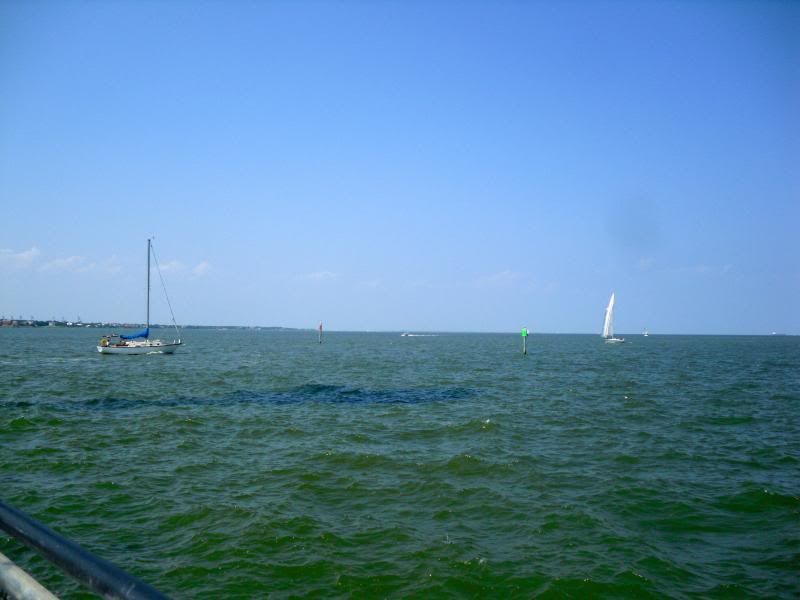 Of course, we had to ride the C.P. Huntington Train, which is always popular. Chaz fell asleep while we were waiting in line and ended up sleeping through the whole train ride! I have no idea how! It really is a neat little mini tour of Kemah Boardwalk. It goes past the the Dancing Water Fountain, the Plaza, shops, and down to the Aquarium restaurant and back through a fun mine adventure at the end. The conductors even wear striped overalls and hats. So fun!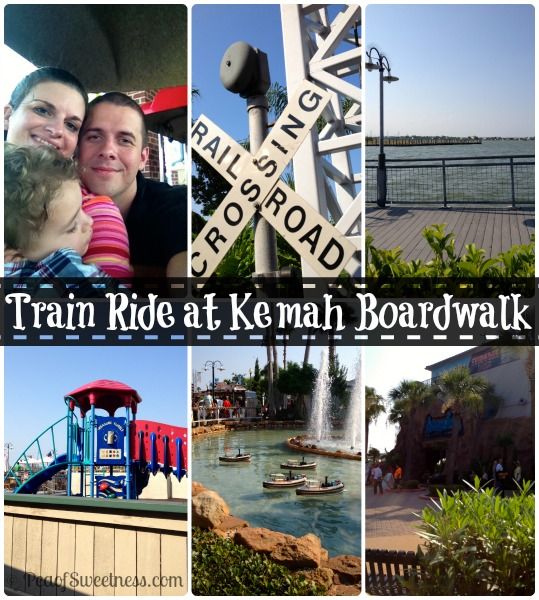 We really had so much fun! It was really neat to experience this fun kid-friendly side of Kemah Boardwalk that we hadn't before! I can't wait until we move back to the Houston area because this is one place I imagine we'll once again visit often!