Over the next 5 days I will be sharing a posts revolving around the topic of Homeschooling with Special Needs. This actual blog hop happened a few weeks ago, but due to my health problems I was unable to complete it at the time. I said I would still share at another time, so here it is! Why "Homeschooling with Special Needs" and not "Homeschooling Special Needs Children?" Because *I* have special needs, too! I have Fibromyalgia with Chronic Fatigue as well as Sensory Processing Disorder. And yes, I still homeschool our 3 special needs children! It's not always easy, but it's worth it!

Some advantages to homeschooling when you have a chronic condition
First, I want to start with advantages because even though some days are hard we need to recognize the benefits as well!
You set the start time
This is a HUGE advantage for not only myself, but for our kids as well. We have one in particular that is a late sleeper. It is so much nicer, though, to wake up when we usually would, and not when an alarm clock tells us. Plus going slowly rather than rushing around to get somewhere quickly. I did this for a couple of weeks when our son was in public school, and we were ALL miserable. When I don't get adequate sleep I'm also more likely to have Fibro flareups, so being able to rest until we're ready to start the day is a wonderful benefit!
You can wear comfortable clothes
Again, there is no rush to be somewhere or the need to be anywhere, so you can relax in comfortable clothes when necessary. I always "get ready" before we start our homeschool day, but if that means lounge pants because I'm having a rough day – that's OK!
Improved mood = overall feeling better
I find homeschooling so rewarding! I love being there for every "aha" moment and all the fun we have as well! I just feel better overall knowing I'm providing a solid education for our children as well as seeing their Spiritual growth. It's hard to feel bad when you feel so good!
The hard days
Of course, there are things that also make days difficult. There have been days that I have been in so much pain or just bogged down with fatigue. Those days I wonder how I even make it through. I want to share some tips that help me make it through the hard days.
Know your Resources
There are days that I can't do hands-on work, so I rely more on independent studies or work that requires less hands-on time. We use the computer and iPad only on some days. It's important to know what all you have available to you that is adequate for independent work. I know the resources we use are a perfect supplement or equal to what we are learning hands-on as well.
Set a Realistic Schedule
It's easy to get caught up in all the great Pinterest ideas, things you read on a blog, etc. and set your standards too high. Know your limitations and work around them. I know I can't do in-depth hands-on activities more than 2-3 times per week, so I definitely don't expect to do it every single day. I can't take the kids on field trips every week. It's easy to WANT to do that, I know! It's OK, though, to realize it's not realistic and set a schedule that works for you and your family.
Ask for Help
Maybe you do have some lofty goals for the school year, but you need help to reach those goals. Don't be afraid to ask for it. Perhaps your spouse can help. Although this can be a challenge in our home because my husband also has limiting medical conditions, there are times we can work together to achieve a goal. Maybe you are part of a co-op or homeschool group and can ask a member of the group to help with something you can't tackle on your own. It's OK to ask for help!
Give Yourself Grace
So the week/month/year didn't turn out as you expected. Give yourself grace. Remember not to compare yourself and your family or kids' progress or school year to others. Remember you are on your OWN journey – not theirs. Your journey may be a little more (or a lot more) challenging. Give yourself grace and ask how you might be able to achieve what you planned next time. Maybe it will be from incorporating help or maybe it will mean lowering your expectations. I remind myself that this is our journey, and God is guiding us. Praying also helps give me peace.
If you homeschool with a chronic condition – what are some tips you would share? Please feel free to do so in the comments!
My 5 Days of Homeschooling with Special Needs was meant to be part of a large blog hop by other Schoolhouse Review Crew members. Although my posts are coming very late, you can still check out the blog hop by clicking on the picture below! Many different topics were covered, and I know you will find something you love!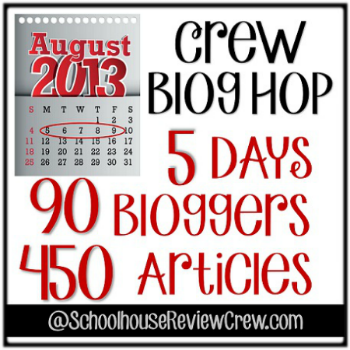 Homeschooling When…
Do you want to read more great posts from homeschoolers sharing how they homeschool with special circumstances? Check out a great roundup by clicking on the banner below!